Our team at Mortgage Choice Penrith provide a full financial service.
While each member brings their own individual skill set and life experiences to their roles, we are also highly aware of the importance working closely together to support each other.
The majority of our clients are repeat customers and referrals who know we strive to offer you the best possible service with a holistic approach and to take the stress out of the lending process.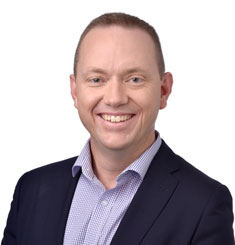 Paul Holland
Owner/Penrith Mortgage Broker
As the owner of Mortgage Choice in Penrith, Paul has over 9 years' experience as a Penrith home loan expert. He offers a unique approach to each individual client, so you can be sure you will receive personalised advice based on your individual needs.
Paul's depth of experience with the Penrith home loan market means he is able to source the best interest rates and loan options for your circumstances, while providing a relaxed and honest service. Not only are our clients very comfortable working with Paul, the high level of referrals he receives for home loans are a reflection of his dedication to providing outstanding customer service.
If you're looking for personal service with an expert who will take the hassle and confusion out of the home loan process, Paul is here to help.
Tim Hayman
Financial Adviser
Tim is a fully qualified and highly dedicated Penrith financial adviser with more than 9 years' experience in the financial services industry. Born and bred in the lower Blue Mountains, Tim is a Penrith local who really enjoys gaining a good understanding of his clients' needs, and helping them put together the pieces of their unique puzzle to help them put plans in place to achieve their financial goals. Tim's passion for financial planning in Penrith radiates through his work, and he combines professionalism and warmth with a commitment to staying up to date with the ever-evolving financial advice environment.
Tammy Love
Office Manager
With 20 years' experience in small business, Tammy ensures the smooth running of Mortgage Choice in Penrith with responsibilities spanning human resources, finance, marketing and compliance. As an experienced loan tracker Tammy also supports the processing of our Penrith home loan applications when necessary.
Our customers know they will always be greeted with a smile and genuine care by Tammy, who shares our dedication to delivering the best possible service to our home loan customers.
Wendy Hangan
Loan Processor
As the Loan Processor for Mortgage Choice in Penrith, Wendy is responsible for managing your loan application from the first point of submission right through to celebrating the settlement of your Penrith home loan. Wendy's dedication to quality customer care means she regularly touches base with all our clients to ensure they are happy with their loan.
Wendy is renowned for her meticulous attention to detail and fantastic customer service. You can relax knowing you're in good hands as your home loan needs are taken care of by a skilled professional every step of the way.
If you have any questions about buying a home or investment property, Wendy will be able to help - or refer you to an expert who can offer informed advice.