We have an amazing team at Mortgage Choice South Melbourne. Many of them have been exactly where our customers are, buying their first home or investment property or renovating their homes. Mortgage Choice in South Melbourne is passionate about helping people through the loan process and achieving their goals.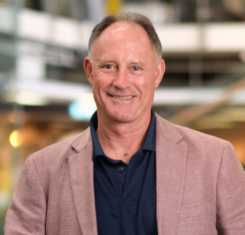 Paul Williams
Paul Williams is the Owner Manager of Mortgage Choice in South Melbourne. He has over 30 years of experience in finance, working on both sides of the market. Paul has purchased several properties and also done a number of renovations, so he understands how important good advice is when it comes to loan structures, products and keeping your loan competitive - and how confusing it can be. He enjoys helping people achieve their lifestyle and financial goals.
Paul holds relevant industry qualifications and certifications including a Diploma of Finance and Mortgage Broking Management, Diploma of Financial Planning Units 1-4, and a Master's Degree in Business Administration (MBA).
Outside of work, Paul & his wife Carolyn have 2 children. Paul has recently run the London Marathon, completed 2 Oxfam 100km trail walks and coached junior AFL football teams..
Fiona Mackenzie-Ross
Fiona's role as a Mortgage and Finance Consultant is to help make her clients' property dreams come true. As well as new clients, Fiona also focuses on our existing clients and helping them with any changes over the life of their loan. Whether you are looking to buy your first home, expand your portfolio or access your equity, Fiona is an expert in making your plans come to fruition.
Fiona's passion for the finance industry stems back to 2009 when she started as a Mortgage Broker's PA, then shortly moving onto 2 of the "Big Four" banks as a Mortgage Solutions Officer. Fiona has studied finance and successfully completed both her Certificate IV in Finance and her Diploma of Mortgage Broking Management. Seeing both sides of the finance industry gives her an upper hand on most other Mortgage Brokers in the industry.
Fiona and her partner Mathew enjoyed building their first home together. They have plans to build a portfolio of properties of their own as well as seeing more of the world!
Matthew Kunek
Matthew's role as a Home Loan Consultant is to help clients find the right solution for their home loan needs. With 10 years of experience working in the banking industry, his extensive knowledge of mortgages and a passion for making a customer's dream of home ownership turn into a reality, he will provide the customer care you deserve. Matthew is aware purchasing a property can be a daunting experience, so if you are wanting to purchase your first home, invest in the property market or to unlock existing equity, Matthew will assist you with the solution to meet your financial goal.
Outside of work Matthew enjoys his cycling rides, finding that great new cafe and travel.
Jessica Parry
Jessica's role as a Loan Processor is to ensure the loan application process runs as smooth as possible.
Jessica has 8 years of finance experience. She has extensive knowledge of mortgages and is passionate about helping her clients through the loan process. Her excellent customer service skills coupled with strong organisational skills make her fit in really well with us.
Outside of work Jessica enjoys spending time with her family and friends. She's a competitive poker player, loves her food and football.
Chris Boler
Chris's role as Loan Packager and Processor is to help make our clients' loan application process as efficient as possible.
Chris brings to Mortgage Choice 17 years of finance experience. He has extensive knowledge of mortgages and is passionate about guiding his clients through the loan process. His excellent communication skills coupled with strong problem-solving skills means Chris is a great part of our team.
Chris holds a Bachelor of Business (Economics) from Swinburne University of Technology. He has worked, travelled and volunteered abroad making him very worldly.
Outside of work Chris loves his footy and enjoys listening to some live music.