April 22, 2016
David dreamed of being a farmer until a farm management course ignited his interest in finance
WHO THEY ARE: David Gibney started his accountancy business in 1995. He works with his wife Julie-Anne (practice manager), Catherine Freemantle (accountant), and Joedy Brown (client services manager) from an office in Baynton St, Kyneton.
WHERE THEY CAME FROM: David grew up in a large farming family near Kyneton. He dreamed of working in a rural environment. His parents encouraged him to study medicine, but David wanted to be a farmer. He completed a farm management diploma, acquired his wool-classing stencil and went to work in the beef and wool industries.
David's diploma course introduced him to finance. As his interest in the subject grew, he became keen to combine it with his experience of the land. So, at 23, he enrolled at Monash University to study economics.
ICM Australia, the large agribusiness company that built the Uncle Tobys brand, employed him as an accountant after he graduated. At the same time, he also ran the cattle-breeding program on the family farm – requiring him to make a 540km round trip every weekend from his home in Albury.
When the journey eventually became too much, David and wife Julie-Anne decided to move closer to Kyneton. They bought a house near the centre of town and set up their accountancy practice in 1995.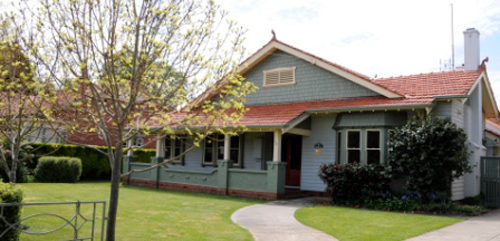 (David runs his practice from an office in Baynton St, Kyneton)
WHAT THEY DO: For the first 10 years, the practice consisted of David and Julie-Anne. But as business grew, more staff came on board. Client services manager Joedy Brown has been with them since May 2008.
Clients come from a variety of fields. Initially, most were related to primary industry but now they are mainly from small businesses. David also works with high net-worth individuals, helping them to build their wealth, often with the help of self-managed superannuation funds.
Advances in technology since 1995 have inevitably changed the way David works. Email and mobile phones have, of course, made communicating quicker. Now scanning and storing paperwork is easier than ever and electronic signatures mean documents can be signed and sent quickly and securely.
WHY THEY LOVE IT: "Essentially accountancy is helping people with problems," David says. "You get very close to your clients. You know about their ambitions, dreams, families and worries. You monitor and observe their various stages of life and support them to achieve their goals."
A fitness fanatic, David cycles, swims or goes to the gym most days. He and Julie-Anne love living in the Macedon Ranges. "It's a fabulous country location in which to bring up children," he says – they have three, all now adults. "We love the relaxed lifestyle and having no commute.
"I'm a long-suffering Essendon supporter, and living here gives us access to games and to Melbourne in general for family and friends. The range of activities also makes Kyneton a great place to rest your head."

THEY SAY: "We like to help people in an ethical, honest, open and approachable fashion. We like our clients and they like us."
THEIR CLIENTS SAY: "Initially my accountancy affairs were in chaos and with patience, tolerance and good business advice, David has managed to create order. He has taken an active interest in my business and his staff have always shown me the greatest respect and courtesy, even when they could kill me for not having paperwork and figures in on time."
Cherylene Brien, Kyneton
WE SAY: "David and Julie-Anne welcome clients as if they are family. This care is ongoing, and I often have after-hours calls from David about mutual clients because he wants to make sure their needs are addressed.
"David and Julie-Anne also run seminars on a broad range of topics and this shows David's depth of knowledge in a number of specialised areas.
"David is one of the most impressive accountants I have met, and I know our mutual clients greatly appreciate the care he takes with them."
GO TO THEM FOR: Personal tax, superannuation (AFS licence number 486720, effective 24 August 2016), retirement and estate planning, farm tax, aged care, tax planning, business planning, business services, cash-flow management, company incorporation, winding up, general tax (GST/BAS/FBT and payroll tax).