September 16, 2017
When Helen Jens was given the chance to buy the PRD Nationwide real estate agency in Kyneton, she knew it was the right next step.
Having managed the business for 12 months, she could see its huge potential.
The office stands in the heart of the town, at the intersection of two busy roads, High St and Mollison St. But in recent years, changes of name and ownership had weakened its reputation.
Helen, a Kyneton local, was determined to rebuild the business. She wanted to show how much she cared about the town and earn a reputation for helping people. But to complete the purchase, she first had to solve a big problem.
Helen needed to find the right loan and navigate the application process. Yet her busy job was swallowing all her time. She had no energy left.
"I was trying to deal with the mountains of paperwork and the mountains of legal requirements to purchase the business," Helen said, "and to do the bank stuff was literally a nightmare.
"You're already doing real estate probably 60 hours a week and then someone drops all this stuff on you — and it's hours per week extra. I was overloaded. It was just out of control."
By turning to Peter from Mortgage Choice Bendigo, Helen freed herself from the exhausting extra work. And the type of loan Peter suggested delighted her. "It was absolutely fantastic," she said. "I would have never thought of it."
Helen took out a line of credit loan, which is like an overdraft. A borrower can repay the loan from an agreed limit (like a credit card) and redraw funds at any time.
The benefits for investors are:
1. Quick access to money if the loan has not been fully drawn.
2. Interest is charged on the balance not the loan limit – so if the balance is $0, then no interest is charged.
3. Interest is at home loan rates, not commercial or overdraft rates.
Line of credit loans do not have an end date so they do not have a "term" like a normal home loan. For this reason, it is a favourite loan for retirees as they can access emergency funds and pay only the account fee while the balance is $0.
The danger with this type of loan is that the lack of an end date means a borrower can be in debt for longer than they would with a term loan.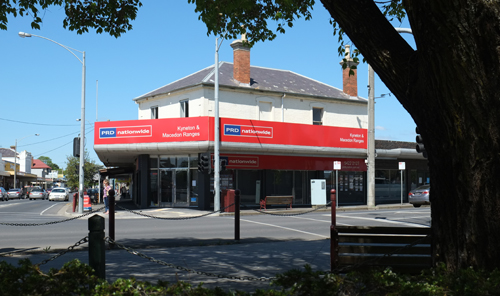 (The office is on the corner of High St and Mollison St in Kyneton)
"Peter was great," Helen said. "He got us through an absolute minefield. He knew where to go with people and he knew who to speak to to get it sorted out. And that's the joy of a broker.
"Since I've been in real estate I've become a firm believer in brokers. I think they make your life a hell of a lot easier. I now advise everyone to go with a broker."
Helen's name has been above the door of the agency since June. Her pride in the community and devotion to her clients has already been rewarded. The business is flourishing.
"It's totally different," she said. "People just walk in. We don't need to ask, they just walk in the door and they say, 'You girls are just going for it,' and walk off. It's not just one occasion. It's really exciting.
"This whole industry is just about people. It's about the people in here and the people out there: my clients and my purchasers and my landlords and my tenants. That's all it's about. And it's really nice to help them."
Helen's tips for investing in a business
1. "Be aware of the timeframe. Give yourself more time than you think is necessary."
2. "Get good advice. That means a good mortgage broker, a good accountant and a good lawyer."
3. "Allow yourself time to digest everything. Going through the documents is huge. It takes months. It's always just one more thing, one more thing. It's incessant. You've got to allow time every day. I honestly thought I knew what I was doing. I didn't anticipate trying to work flat-chat and doing it all at the same time."
4. "Be aware there's a really good chance it won't go smoothly. It's a very long haul. I saw the solicitor mid-March and he said it would take three months. Start the process on time."

Need a loan for your business?
Get friendly, expert help
Call Peter at Mortgage Choice Bendigo on 0438 117 706