Woodend
Mortgage broker Woodend - we compare 450 loans from over 20 lenders to ensure you get the best deal
Why choose me as your Woodend mortgage broker?
One of the main reasons I joined Mortgage Choice in 2003 was its "paid the same" promise. Why should some mortgage brokers be encouraged to steer you towards loans that are better for them than for you?
As a Mortgage Choice broker, I get the same rate, no matter which loan you choose from our panel of lenders. No hidden incentives. It means you can count on me to do what's best for you.
A mortgage is a big commitment but it need not be a big headache. I work hard to make your life as easy as possible.

~ Peter Machell
(Owner, Mortgage Choice, Woodend & Macedon Ranges)
"Peter's attention to detail and knowledge of the mortgage market made a complex transaction very painless."
~ Doryan
Get friendly, expert advice from a Woodend mortgage broker ...
Visit our Woodend office at 87 High St, Woodend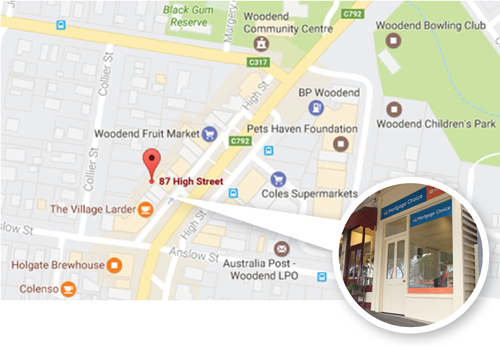 Or call Woodend mortgage broker Peter Machell
Phone: 5427 4262 or 0438 117706 - anytime, even on a sunny Sunday afternoon
What our Woodend mortgage clients say
"Very professional service. Products were explained well and all questions were answered promptly. Thanks for making it so easy."
TO, Woodend
"Great service, and a very high level of professionalism and knowledge to help guide us through buying our first home."
A Knight, Woodend
"We were very happy with your service, very professional and helpful. The refinance process was made easy for us to achieve a much better interest rate as well as great products."
SH, Tylden
Click here to read more testimonials
Click here to read our customer stories
As Woodend mortgage brokers, our services include:
Home loans
Car loans
Business lending
Property investment
Personal loans
Serving: Woodend, Newham, Carlsruhe, Ashbourne, Tylden
Phone Woodend mortgage broker Peter Machell
5427 4262 or 0438 117706