Some people think a mortgage broker's job is to get them the lowest rate. But it's much more than that.
I believe it's my job to solve every problem, not just the first.
You can call me whenever you have a mortgage question – outside office hours, on weekends ... I've even helped clients when I've been on holiday. No problem is too small.
Doryan, a client who was remortgaging his home, needed me to literally go the extra mile.
"Everything went missing in the mail at one point," he said. "Peter actually drove to Castlemaine, picked up the documents and drove to Melbourne to hand them to the assessor."
I believe in fairness, too.
One of the main reasons I joined Mortgage Choice was its "paid the same" promise.
Why should some brokers be encouraged to steer you towards loans that are better for them than for you?
As a Mortgage Choice broker, I get the same rate, no matter which loan you choose from our panel of lenders. No hidden incentives. You can count on me to do what's best for you.
A mortgage is a big commitment but it need not be a big headache. I work hard to make your life as easy as possible.
Would you like to chat? Call Peter on
0438 117 706.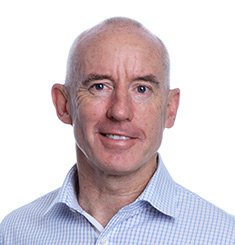 Peter Machell
Before becoming a mortgage broker, Peter was Angus & Robertson's national business development manager.
After completing an MBA, he decided to build a business of his own. He set up Mortgage Choice Camberwell in 2003 and ran it for 11 years before establishing Mortgage Choice Bendigo.
In his free time, you'll often find him running, playing squash, or mucking around at home with his two daughters.
A good cook, he loves to experiment in the kitchen (when allowed) and can whip up a mean red curry or laksa.
Nicole Harman
Nicole joined Mortgage Choice Bendigo after completing a Bachelor of Business at Victoria University and working for an accounting firm, where she obtained a diploma in finance and mortgage broking management.
She loves exercising – and a challenge. She's conquered the 15km Run for the Kids and the 21km Tough Mudder (though once was enough, she insists).
A dancer since she was four, she's performed at a charity function for Hugh Jackman and one of Geoffrey Edelsten's weddings.
Her labrador, Roxy, doesn't share her love of exercise. So you'll often see Nicole out walking her friends' dogs instead.