Some people think a mortgage broker's job is to get them the lowest rate. But it's much more than that. We believe it's our job to solve every problem, not just the first.
We also believe in making the home loan process as easy as possible for you. You can call our team in Woodend, Bendigo & Macedon Ranges whenever you have a mortgage question – outside office hours, on weekends & even during holidays.
Doryan, a client who was refinanced his home, needed Peter to literally go the extra mile. "Everything went missing in the mail at one point," he said. "Peter actually drove to Castlemaine, picked up the documents and drove to Melbourne to hand them to the assessor." Meet more of our customers.
When you're ready to get started or just have a question, call Peter on 0438 117 706.
You might also want to: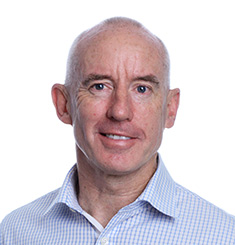 Peter Machell
Owner | Mortgage Broker (16 years)
Before becoming a mortgage broker, Peter was Angus & Robertson's national business development manager. After completing an MBA, he decided to build a business of his own. He set up Mortgage Choice Camberwell in 2003 and ran it for 11 years before establishing Mortgage Choice Bendigo & Woodend.
In his free time, you'll often find him running, playing squash, or mucking around at home with his two daughters.
"I am absolutely passionate about my customers & how transparent our model is at Mortgage Choice! Our paid the same model means that we're paid the same commission regardless of the home loan our customer chooses, from our wide panel of lenders. There's nothing better than knowing you're helping customers change their lives, and doing it without bias."
Email Peter | Connect with Peter on LinkedIn | 0438 117 706
Nicole Harman
Mortgage Broker
Nicole joined Mortgage Choice Bendigo & Woodend after completing a Bachelor of Business at Victoria University and working for an accounting firm, where she obtained a diploma in finance and mortgage broking management.
Nicole is one of the few brokers in Victoria who is accredited to do Reverse Mortgage loans, which is just one of the reasons why our clients love her. She continues to learn and educate herself on the best outcomes.
She loves exercising – and a challenge. She's conquered the 15km Run for the Kids and the 21km Tough Mudder (though once was enough, she insists). She has a groodle called Teddy, who gets most of her attention and that of strangers, who think his name suits him perfectly.
"I have a strong customer service background and believe it's often missing from financial services. Peter and I are passionate about ensuring that our financial service goes hand in hand with great customer service - whatever the customer needs, we can help with! And I love saving a customer money - because that can make a huge difference to someone's life."