September 13, 2017
Rebecca Crommelin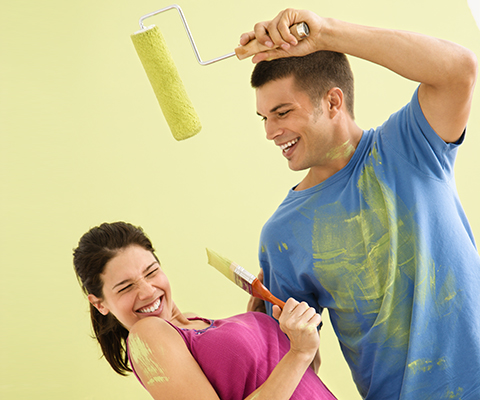 There is a general rule when renovating your home that you should always aim to add three dollars back for every dollar that you spend.
So before you start planning for your renovation, take some time to think and answer the following questions: why you want to renovate your home? Do you want to improve the aesthetics of your home or improve liveability in the home?
If you are wanting to improve the aesthetics of your home to prepare it for sale, you may be wanting to know some of the simplest or most cost-effective home renovations you can make to add value to your property.
Luckily, there are a few things you can do to add value to your home. Take a look below as we reveal the key home improvements to add value to your property.
Flooring
One way you can immediately refresh your home is by upgrading your floorboards, carpet or tiles. If you're thinking about changing from carpet to hardwood floors, you might want to consider laminate options. As the square metre cost of laminate is much cheaper than hardwood floors and is also a lot easier to maintain long term. It's also worthwhile getting your floorboards polished or carpets cleaned for a more affordable, but fresh update.
Open spaces
We've said goodbye to partitioned living and dining areas, right now is all about bright open plan living spaces. Now, removing walls is not a small task, but upgrading to a modern living area can add significant value to your home. And if you or the buyer wishes to divide the larger area, you can easily do this using indoor plants and furniture.
Modern design
Australia has been home to brick houses for a long time. While this may still be a popular design for several new builds, the look has developed over time. Nowadays, builders are going for more abundant colour schemes and unique, patterned brickwork. Many architects are opting for traditional commercial exterior designs, by using zinc panels, corrugated cladding and timber cladding. This design and materials create a real wow-factor and turn your home into a grand modern design.
Update doors and windows
Any architect will tell you that one of the key features in a home is light. The amount of light coming into a space can significantly effect the space's ambience and even size. If your home is low on natural light, you might want to look at putting in new windows or doors to boost the amount of light. There have also been some great developments in technology that allow you to have your windows tinted, which can save you thousands on your energy bill. This also applies to doors.
Outdoors / Garden
It's a known fact that a wonderful garden makes a property far more desirable. But if you are selling your home its important to keep in mind that what appeals to you may be considered a chore to others. If you create a high-maintenance garden, prospective buyers may consider this a timely and costly feature. So, if you choose to landscape your garden, be sure that it is easy to maintain and simple. One tip would be to plant native plants that thrive in Australia and require minimal attention.
Painting and lights
You'd be surprised how much a new lick of paint will improve your home. In particular, painting your walls in a light colour will open up any space. It's also a good idea to update the lighting inside and outside your property. You could even try adding some garden lights and connect the new lighting to a smart device so you can control them through an app.
Things to avoid
Firstly, you should not attempt any renovations to the structure of your home yourself. For inexperienced renovators, many DIY jobs often have expensive consequences and could possibly decrease the value of your home.
If you need any more tips for your renovation, give our team at Mortgage Choice Perth a call on (08) 9485 0090. We can help guide you through your home renovation and help you plan and finance your renovations.
Rebecca Wilson
rebecca.wilson@mortgagechoice.com.au
Learn more about our other financial services we can help you with