October 16, 2017
Rebecca Crommelin

Help keep your Home Loan healthy with our Free Home Loan Doctor service
Did you know Mortgage Choice has a fantastic free tool that can help you structure your home loan, your savings accounts and your home loan repayments so that they can best work for you in paying off your home loan as soon as possible.
The Home Loan Doctor, as part of our Home Loan Health Check service, can show you how your current or new loan will amortise or reduce over the life of your loan. More importantly it demonstrates what minor changes to structure, small increases in regular repayments, lump sum periodical repayments (such as tax returns) and using an offset account can achieve to help you pay off your loan quicker.
For example, in this scenario based on the loan amount of $350,000, it shows that JUST $50 per week in extra repayments reduces the standard loan term by 5 years and 7 months and saves some $51,000 in interest! Just $50 per week. If your savings account sits at $5,000 consistently and you chose to have it in an offset account not a normal savings account, you'll save an additional 5 months and approx $7,000 in interest. AND if you could afford to make regular additonal repayments of $100 per week, you'd pay your $350,000 loan off in only 20 Years and 9 months and save close to a whopping $84,000 in interest charges.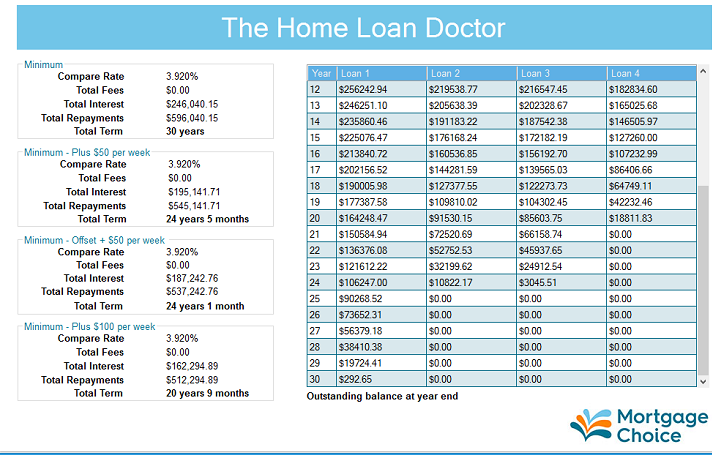 Find out what other home loan & finance services Mortgage Choice Perth can offer you
Visit our home loan calculators page