May 11, 2017
Rebecca Crommelin
Most of our clients don't realise we do more than assist with home loans. We also offer car loans, business loans, asset finance and financial planning.
We do it really well actually - we have very competitive rates and can negotiate on your behalf with our lenders. Most importantly, we can offer no early repayment penalties with some lenders and products.
In fact, the first car loan we ever wrote in our business was mine. Vaios, our Car Loan specialist in the office, got me better than car yard rates, with no early repayment penalties and did it all very quickly. Once my loan was approved and settled, I collected the keys for my brand new shiny, black Dodge Nitro 4x4 - the one with the angry looking front. I loved it. It was March 19th, 2010.
Does anyone remember what happened 3 days later on Monday 22nd March, 2010?
I do, I'll never forget it. It was the day that Perth was belted by the hail storm of all hail storms - thousands of cars were damaged that day including my beautiful new Nitro - but that's not why I remember that day so well. It was what happened after the hail storm that I remember - and it may just be the funniest thing to ever happen to anyone, EVER. I know that is a big call to make, but keep reading and you can decide.
The day started out normally. I was in our West Perth office and had a lunch time appointment in our city office. I drove the Nitro to the city and parked in the structurally sound car park near our office. At this point, it was still a normal day. I completed my appointment, chatted to the team in the city and then made my way back to the car. So far, still normal.
I remember sitting in the car thinking about my 3 options for the rest of the day. Stay in the city and work, go back to West Perth and work, or go home to work and be home early to mess around with the kids when school finished.
If I had chosen to stay in the city that day, what happens next in my story never happens. If I went straight home that day it would also never have happened. BUT... I chose to leave the very safe car park in the city and go back to the West Perth office.
In the 10 minutes it took me to drive to the West Perth office, the weather had turned. From what looked like a normal day to suddenly sheets of rain in just minutes. I parked and ran in to the office. I entered the office and almost immediately, it happened - hail.
We all watched as thousands of golf ball sized hail stones pelted pedestrians, cars and buildings along Hay Street. It was incredible to witness, surreal. Our office filled up with people taking shelter from the storm and we were shocked and in awe of how ferocious the storm had become.
As fascinating as it was to watch the storm unfold from the safety of our office, to watch trees buckle and Hay Street in West Perth turn into something more resembling a ski run than a busy inner city road. When we saw divots appear and even windows shatter in the cars parked and driving past - there was the horrible realisation that our cars were in the car park out back and were most likely getting the same treatment. When it was safe to do so, we stepped outside with the faintest of hopes that the tall buildings around our car park may have saved our cars.
They hadn't. Our cars were monstered by the hail storm. My new car now looked like it had been in several rounds of a demolition derby.
When I arrived home later that day, that's when my day got really interesting.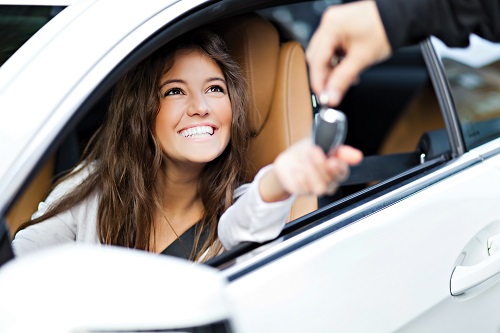 I came inside - wet from running from my car and very cranky from the day I've had - and I start to strip off on the way to a hot shower and get as far as my undies when the wife calls out, "Did you pick up the blah blah from the shops?" (I can't even remember what it was but luckily I had!).
Frustrated after a long day, I made a decision fully based on being cranky. Rather than have a shower, get comfortable and then get the blah blah out of the car. I instead made the fateful and impulsive decision to stomp out of the bedroom and head to my car to get the blah blah for my wife.
Suddenly I remember I forgot to shut the front door behind me, so as I am turning back to close it - and I swear this felt like it happened in slow motion - I was just in time to watch my gorgeous little white Westie puppy, Lainey, bolt through my legs and out onto the street. Oops.
Now I'm not stupid. I wasn't going to run after Lainey in just my undies, in public and in the pouring rain... I was going to drive after her. For some reason putting clothes on didn't occur to me, I just grabbed the keys and took off.
Anyone with a "runner" for a dog gets to know their patterns. So being clever and suddenly conscious that I was only in my undies, I drove 10 metres ahead of her, slammed on the breaks, jumped out of the car, yelled out her name and mercifully she sat for me. Finally a break. I walked the 10 metres to her, picked her up and then turned to hop back into the car...
But the car was 50 metres away driving off into the night. You see in my frazzled state, with everything that had gone on that day - I didn't take out the keys or put it in park or lift the park brake. Nope, I had left the car in drive. So while I was holding my puppy, in the middle of the road, in my undies and in the rain... my car was making it's way down the road and heading straight towards the house.
So here I am, a 30-something year old man, running at a dead sprint, in my undies and with a dog tucked under my arm, I was chasing my brand new and hail damaged Nitro down the street in the blistering rain.
Of course, I did catch my car. Just after it veered off the road and through some garden beds, but before the brick letter box (just). So all ended well. Well for me, not the garden beds.
Anyway, to the point.
And we can, with near 100% certainty, guarantee that none of the above will happen to you or your car when you take out a car loan wtih our team at Mortgage Choice Perth. Just a great deal and great service like I had from our Car, Commercial and Business Loan specialist, Vaios.
Vaios actually shared a great story with me of a client he had helped recently...
"I had an existing client of mine ask me if we could beat a car finance quote she was given. I told her we would beat anything she was given. She was quoted a repayment by the car dealer and quoted the base rate which car dealerships love doing, but unfortunately it's not the actual rate you are paying. I was able to negotiate with the lenders we have (all 30 of them) and get a quote that was as low as the base rate my client was quoted by the car dealer, and still save her $30 a month. Better yet, she was able to pick up the car within 48 hours!"
So give our team a call on (08) 9485 0090, or send us an email - we would love to help you into your new car.