November 19, 2015
Vicki Wisely

First home owners comfortable with their mortgage
New data showcases first home owner sensibility
One in four first home owners say their interest rate would have to more than double before they felt financial strain.
According to Mortgage Choice's annual First Home Owner Survey, which canvassed the opinions of first home owners who purchased within the last two years, 25.3% said they could comfortably afford at least a 4% increase in interest rates.
"A further 36.8% of surveyed respondents said they could afford at least a 2% increase in interest rates," local Mortgage Choice Renee Polden said.
"Given that interest rates generally rise in increments of approximately 25 basis points, the majority of first home owners believe they could comfortably afford at least eight interest rate rises."
In the survey, first home owners were also asked whether or not they had considered refinancing their mortgage following the recent rate movements by many of Australia's lenders and 59.1% said they had not.
"It would appear as though first time owners are currently very comfortable in their home loan product, with the majority willing and able to make extra contributions to their mortgage each month," Renee said.
"More than 56% of first home owners said they were making additional mortgage repayments on a regular basis.
"Of those first home owners making additional repayments, 63.4% said they contribute as much as they can afford to their mortgage each month.
"This just goes to prove that the majority of first home owners are diligent and savvy with their money. They understand that interest rates are sitting at historical lows and as such, are keen to pay off as much of their mortgage as possible while their rates and monthly repayments are low.
"First home owners are acutely aware that interest rates will rise eventually, so they are keen to make hay while the sun shines."
If you would like learn more about your home loan or financial advice options, call 07 5562 0748 or visit www.mortgagechoice.com.au/robina1.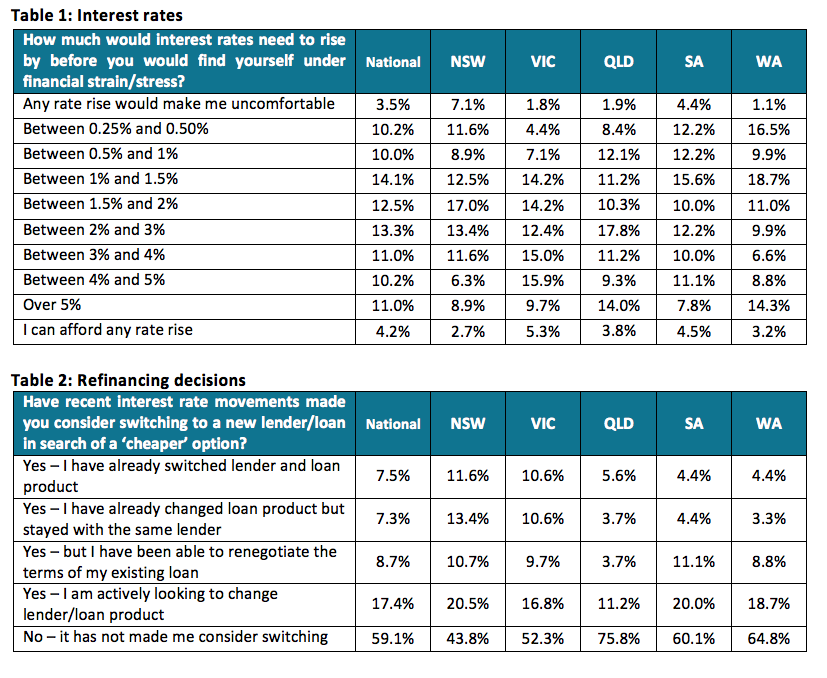 For further information, photos of the new logo, or to arrange an interview, please contact:
Renee Polden
Mortgage Choice in Robina
07 5562 0748
renee.polden@mortgagechoice.com.au
About the Survey
Market research company Nine Rewards was commissioned by Mortgage Choice to conduct the 2015 First Home Buyer Survey. The online Survey was conducted in October and completed by more than 1,000 Australians who purchased their first home within the last two years or are looking to purchase in the next two years.
Important information
This article is for general information purposes only. It has been prepared without considering your objectives, financial situation or needs. You should, before acting on the advice, consider its appropriateness to your circumstances.
About Mortgage Choice
Mortgage Choice is an ASX listed company that seeks to help Australians with all of their financial needs.
Established in 1992, Mortgage Choice was originally established to help Australians improve their financial situation by offering a choice of home loan providers, coupled with the expert advice of a mortgage professional.
Since that time, the company has grown and developed into a fully fledged financial services provider.
Today, Mortgage Choice helps customers source car loans, personal loans, credit cards, commercial loans, asset finance, deposit bonds, and risk and general insurance.
Further, the company offers Australians access to real, relevant and affordable financial advice through our qualified financial advisers.
Mortgage Choice has no balance sheet or funding risk, and consistently delivers strong profits and attractive yields. It listed on the ASX in 2004 (MOC) and is a member of the Mortgage & Finance Association of Australia (MFAA).
Mortgage Choice holds an Australian Credit Licence: no. 382869 and Mortgage Choice Financial Planning Pty Limited holds an Australian Financial Services Licence: no. 422854. Both licences are issued by ASIC.
Recent recognition: 2015, 2014 Australian Broking Awards Best Diversification Program; 2013, 2012, 2011 Australian Broking Awards Major Brokerage of the Year – Franchise; 2013, 2012 Australian Broking Awards Best Ethical/Social Responsibility Program; 2012 Australian Broking Awards Best Training and Education; No.1 on The Adviser magazine's 2012, 2011, 2010 and 2009 Top 25 Brokerages list; 2012, 2010, 2009, 2008, 2006 and 2005 MFAA Awards Retail Aggregator/Originator of the Year; 2011, 2010, 2009 and 2008 10 Thousand FEET Top 10 Franchise list; 2010 Forbes Asia-Pacific Best Under A Billion list.
Visit www.mortgagechoice.com.au or call customer service on 13 77 62.