August 27, 2015
Vicki Wisely
Mortgage Choice reveals top 5 factors for property investors
A majority of Australian investors are motivated to buy property for financial reasons, new data has revealed.
According to Mortgage Choice's 2015 Investor Survey, 76% of investors said they bought their investment property to 'set themselves up financially for the future'.
Speaking about the results, local Mortgage Choice broker Renee Polden said with vacancy rates low and property prices on the rise, property investment can be a very lucrative investment strategy provided it is done well.
"So long as Australians buy the right investment property, property investment can be a great way for someone to future proof their wealth," she said.
"Of course, finding the right investment property can seem like a daunting task – especially for first time buyers. To make the process easier, it is important to know what key factors all investment properties should have."
To help Australians hunting in the market, Mortgage Choice has revealed the 'keys' to successful property investment:
Location, location, location: According to the Investor Survey, 59% of investors believe purchasing in the right suburb and street is a key factor when choosing a property. Indeed, buying a property that is ideally located is imperative as it can help ensure you always have tenants and achieve strong capital growth.
Revisit finances: Most people realise that establishing a finance strategy is an important first step to buying property. However, some buyers fail to revisit that strategy during the house hunting process – which can take upwards of six months. While you may have been pre-approved for finance earlier in the year, recent changes to investment lending policy and pricing may affect your ability to finalise your finances come settlement. Remember to keep your finance strategy front of mind and double-check any financial advice you've received before placing an offer on a property.
In demand: Buying an investment property that is close to things like public transport, restaurants, cafes and educational institutions is always a good idea as it will help ensure you earn top dollar and keep the property occupied. Tenants love to be close to the action, so it is important to make sure your investment property is as well.
Know your numbers: Do your research on population growth, average rental income and vacancy rates, in the areas that interest you. The more you know your numbers, the easier you will it will be to buy a property that meets your needs.
Repairs and renovations: Keep your eyes peeled for any maintenance or renovations a property requires. From the first inspection it is important to weigh up quick and easy fixes, which will boost your rental income or capital growth, over those that will be more costly and timely.
If you would like learn more about your home loan or financial advice options, call 07 5562 0748 or visit our web page here.
Table: Key motivators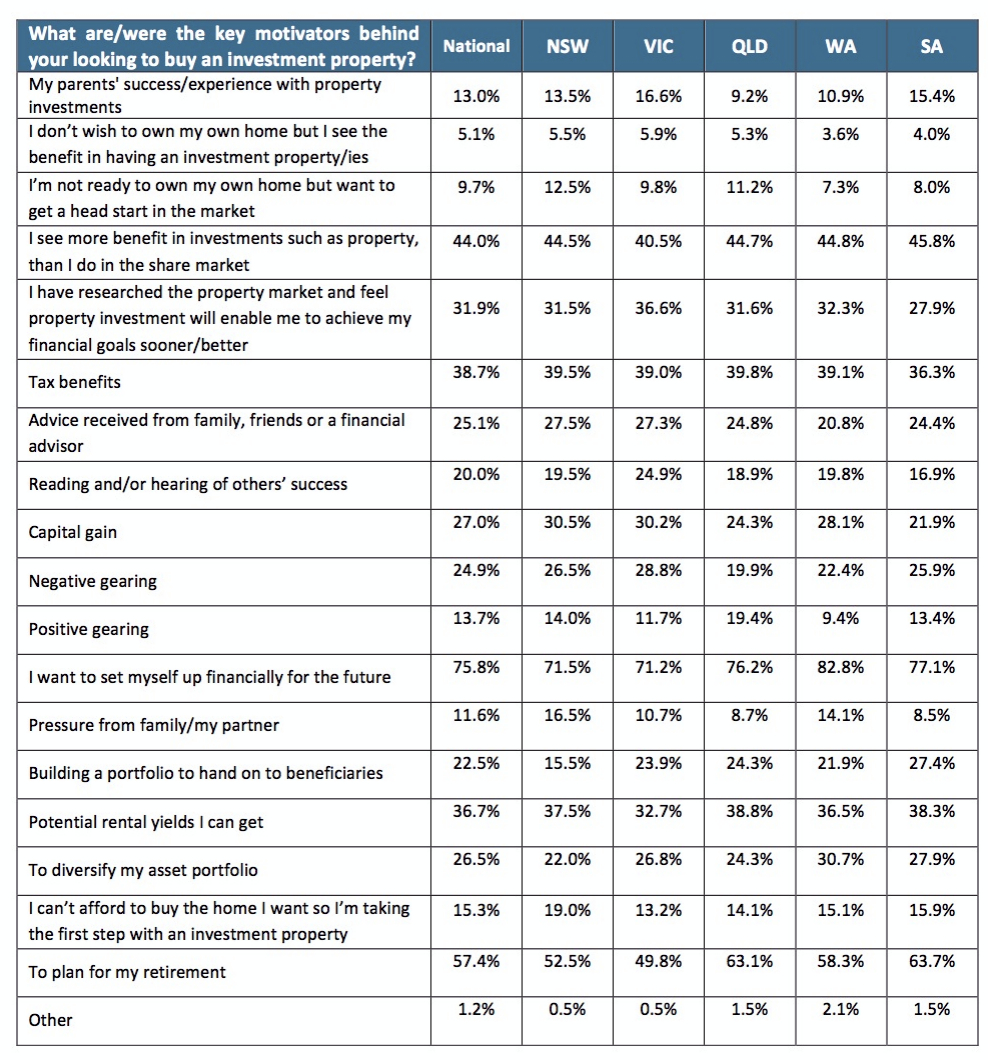 For further information, photos of the new logo, or to arrange an interview, please contact:
Renee Polden
Mortgage Choice in Robina
07 5562 0748
renee.polden@mortgagechoice.com.au
*About the survey
Market research company Nine Rewards was commissioned by Mortgage Choice to conduct the 2015 Investor Survey. The online survey was conducted in July 2015 and completed by 1,025 Australians who were planning to purchase their first investment property in the next two years or recently purchased their first investment property.
Important information
This article is for general information purposes only. It has been prepared without considering your objectives, financial situation or needs. You should, before acting on the advice, consider its appropriateness to your circumstances.
About Mortgage Choice
Mortgage Choice is an ASX listed company that seeks to help Australians with all of their financial needs.
Established in 1992, Mortgage Choice was originally established to help Australians improve their financial situation by offering a choice of home loan providers, coupled with the expert advice of a mortgage professional.
Since that time, the company has grown and developed into a fully fledged financial services provider.
Today, Mortgage Choice helps customers source car loans, personal loans, credit cards, commercial loans, asset finance, deposit bonds, and risk and general insurance.
Further, the company offers Australians access to real, relevant and affordable financial advice through our qualified financial advisers.
Mortgage Choice has no balance sheet or funding risk, and consistently delivers strong profits and attractive yields. It listed on the ASX in 2004 (MOC) and is a member of the Mortgage & Finance Association of Australia (MFAA).
Mortgage Choice holds an Australian Credit Licence: no. 382869 and Mortgage Choice Financial Planning Pty Limited holds an Australian Financial Services Licence: no. 422854. Both licences are issued by ASIC.
Recent recognition: 2014 Australian Broking Awards Best Diversification Program; 2013, 2012, 2011 Australian Broking Awards Major Brokerage of the Year – Franchise; 2013, 2012 Australian Broking Awards Best Ethical/Social Responsibility Program; 2012 Australian Broking Awards Best Training and Education; No.1 on The Adviser magazine's 2012, 2011, 2010 and 2009 Top 25 Brokerages list; 2012, 2010, 2009, 2008, 2006 and 2005 MFAA Awards Retail Aggregator/Originator of the Year; 2011, 2010, 2009 and 2008 10 Thousand FEET Top 10 Franchise list; 2010 Forbes Asia-Pacific Best Under A Billion list.
Visit www.mortgagechoice.com.au or call customer service on 13 77 62.