February 16, 2016
Vicki Wisely
What is 'Stamp Duty or the Home Transfer Duty Concession Rate'?
Here at Mortgage Choice in Robina, on the Gold Coast, one of the questions we are often asked is 'What is Stamp Duty or the Home Transfer Duty Concession Rate'?
Stamp duty is thought to have originated in Spain in the early 1600's as a tax levied on legal documents including cheques, receipts, commissions, licences and transactions. Once the applicable tax was paid, a stamp was impressed onto the document to show that the tax had been paid, making the document legal.
In Australia, stamp duty on property and land is now known as Home Transfer Duty and is applicable whenever you purchase or transfer land or property. As this is not a Federal duty, each state sets their own rate combined with a range of exemptions and concessions – for example First Home Buyers, Owner Occupiers and Multiple Purchasers.
In Queensland, the amount is based on either the value of the property, or the purchase price, whichever is higher. This means that even if you are 'gifted' land or a property, you will still pay duty on the market value.
To help you calculate the duty for your circumstance, we suggest using an online calculator to assist such as the Mortgage Choice Stamp Duty Calculator or http://stampduty.calculatorsaustralia.com.au.
You can find a list of concessions here - http://www.qld.gov.au/housing/buying-owning-home/concessions-for-homes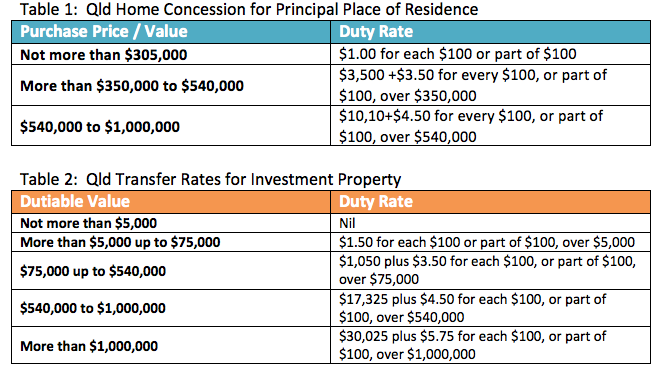 Renee Polden of Mortgage Choice in Robina will assist you by calculating the exact amount applicable to your purchase and (in most instances) factor this additional cost into your lending figures.
**Image courtesy of www.qld.gov.au last updated 31 July 2015. Check the website to ensure information remains current for your requirements. The Home concession was not available from 1 August 2011 to 30 June 2012.