Robby Halabi is your local Mortgage Broker & Loan Expert in Mawson Lakes, Salisbury, Para Hills, Ingle Farm & surrounds
Our free home loan service gives you access to thousands of loans from over 25 lenders. Our team in Mawson Lakes & Salisbury will do all the research for you - negotiating on your behalf to get you a great deal. We're the home loan experts - so you don't have to be.
5.0 (28+ total reviews)
Aggregated from:







Call Us

Mortgage Choice Ridgehaven

Office - 0415 111 555
Open Hours

Mortgage Choice Ridgehaven

Monday - Friday: 9:00am - 5:00pm


After hours by appointment

Free Appointment
Mobile Broker
Servicing Mawson Lakes, Salisbury, Para Hills, Ingle Farm & surrounds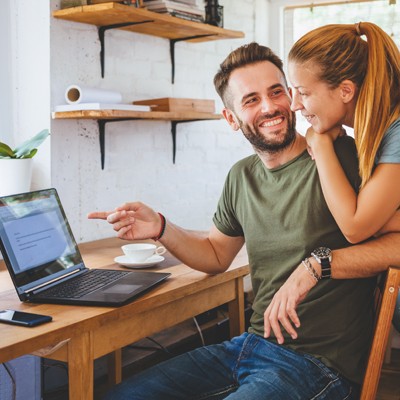 Latest home loan interest rates
Start your home loan journey today
We're the home loan experts - so you don't have to be
When making a big purchase like your home or investment property, it's important to get the finance right. After all, your home loan has a big impact on your finances. The problem is; there are so many available - how can you know which one is right for you?
Robby and the Mortgage Broker Mawson Lakes team are experts in finding a great home loan, doing all the research and paperwork on your behalf.
Compare our lowest interest rates
We help you with the entire loan process
We understand your needs: we will figure out what type of home loan will suit your needs and your budget.
We work out your borrowing power: our team will put together the figures like repayments and what you can borrow.
We compare loans for you: We will compare thousands of loans from over 25 lenders, including the big four banks and narrow it down to a handpicked selection of loans.
We answer your questions: we have a wealth of knowledge and can talk you through any questions about the process, interest rates or features.
We do all the legwork: if you decide to go ahead, our team will prepare all the paperwork and take care of the admin side of your loan.
The best part is, as a mortgage broker our service is free for customers, as the lender pays us a commission after your loan settles. It means we can offer you support with your home loan, without costing a cent.
Let's find you a great loan
Whatever you're looking for - the Mortgage Broker Mawson Lakes & Salisbury team are committed to finding you a great loan. Call Robby & the team today on 0415 111 555 or get started below.
The Mortgage Broker Mawson Lakes team service the areas of Mawson Lakes, Para Hills, Ingle Farm, Salisbury, Salisbury South, Salisbury East, Burton, Edinburgh, Elizabeth, Elizabeth Downs, Parafield Gardens and surrounding suburbs.
Your borrowing power
The right home loan for your needs
Our mission is to find the right home loan for your individual needs and to always have your best interests at heart. Plain and simple. Which is why we have such a wide range of lenders to choose from. We can search through hundreds of products to find something tailored to your situation. ~
Client reviews
Robby goes above and beyond for his clients. Whenever we had questions or needed things changed Robby was quick, professional and attentive. Making us really feel apart of the decision making process.

He helped us explore our unique options and provided results that no other broker wed spoken to could.
We recently had Robby refinance our home loan which had not been looked at for many many years. Robby was fantastic to deal with, extremely friendly, professional and knowledgeable and kept us updated every single step of the way. He really does go above and beyond for his clients to find them the best deal. We will highly recommend Robby to everyone and we are so grateful for all the hard work he puts in to make our lives easier
My journey towards buying my first investment property wasnt easy, however, a big thank you to Robby for all his help and support I am truly grateful to him for being cooperative and helping me with every step of the way. Cant wait to work with him again in my future investments Simply the best in the business
I recently worked with Robby to refinance my mortgage and he was fantastic. He was helpful, patient, responsive, and professional throughout the entire process. He made sure everything was handled efficiently and even stayed in touch afterwards to ensure everything was going well. I highly recommend him for anyone in need of mortgage assistance. He is knowledgeable, friendly, and goes above and beyond to help his clients. Thank you, Robby
Thank you so much Robbie The bank said no to my case and i was referred to Robbie by a friend who was in similar situation as mine and Robbie helped her with the loan. Robbie took over my case and my loan got approved in a week
Robbie is excellent in what he is doing and he is very patient explaining everything to me in details. Highly highly recommend
What a pleasure it is working with you Rabie. Thank you for everything you did for us. Highly highly recommended
Always responsive and attentive to our needs. Have been dealing with him for a few years and has always been helpful and responsive. Would highly recommend
Working with Robby is a pleasure. The experience was professional, polite and efficient. I highly recommend his service because he goes above and beyond to ensure his customers are happy.
Recently I needed to refinance my home loan and I was recommended to speak to Robby. I found that Robby was great to talk to and I found him to be very knowledgeable and able to explain to me my options in getting the best interest rate possible. Thanks Robby for all your help.
Refinancing guide
Considering refinancing? Our guide explains the reasons, costs and steps involved in refinancing your home loan.