August 30, 2016
Robert Causovski
Are you looking to buy your next home, before you've sold your existing home.
If you're looking to upgrade to a bigger home a bridging loan may suit your needs, so you can borrow the money you need to buy your new home before you've sold your existing one.
What is a Bridging Loan?
A bridging loan is a short term loan that finances the purchase of a new property while you are selling your existing property. This type of loan can also provide finance to build a new home while you live in your current home. You will normally have 6 months to sell the existing property or 12 months if a new property is being constructed.
Bridging Loans are designed to 'bridge the gap' between buying a new home and selling your current one.
How does a Bridging Loan work?
When you take out a bridging loan, the lender usually takes over the mortgage on your existing property as well as financing the purchase of the new property. The total amount borrowed is called the Peak Debt, and includes the balance of the loan on your existing home, the contract purchase price of the new home and any purchase costs such as stamp duty, legal fees and lenders fees.
The minimum repayments on a bridging loan will generally be calculated on an interest-only basis, however in many cases this interest may be capitalised until the existing home is sold, i.e. accrued and added to the Peak Debt.
Bridging Loan Scenario - Purchase Process;
For example, If the balance of the loan on your existing property is $200,000 and the purchase costs of the new property are $500,000, you may be able to borrow up to $700,000, which will be your Peak Debt.
You now have a short term debt of $700,000 while the sale of the existing property is completed. Interest will be paid on $700,000, as opposed to the original $200,000 loan.
Once you sell your existing property, the net proceeds of the sale (sale price minus any sale costs such as selling agent's fees) are used to reduce the Peak Debt. The remaining debt plus any capitalised interest becomes the End Debt. This End Debt is then paid as per a regular mortgage product.
Bridging Loan Scenario - Selling Process;
If the net proceeds of the sale of the existing property are $400,000, the borrower will be left with an End Debt of $300,000 (that is $700,000 less $400,000) plus any capitalised interest.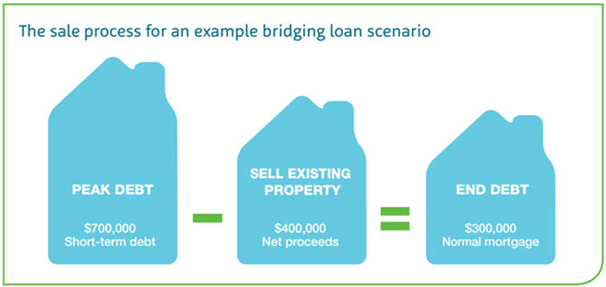 If you don't want to miss out on buying a new property while you wait to sell your current home then a Bridging Loan might be suitable for you.
Complete Bridging Loan Process from Start to Finish

If a Bridging Loan is right for you, talk to us today and we'll be able to assist you with the process.