Business Lending
Equipment Finance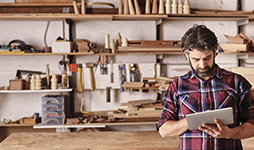 From equipment leasing to small business loans, we can help connect you with the right finance options to meet your growing business needs and cash flow.
Equipment Lease
Do you need to always have the most cutting edge technology available to you and your clients? An equipment lease might be the best option for you, this will give you the ability to renogotiate a new arrangement at the end of your contract, be it to continue leasing the equipment or to lease a new item.
Hire Purchase
Do you eventually want to own your asset/equipment outright, this may be the option for you. You hire an asset till you pay it off in full, then ownership is transferred to you.
Novated Lease
Allows the employer to lease an asset on behalf of their employee, with the responsibility and payments coming from the employee
Equipment Loan (Chattel Mortgage)
Which is a fixed interest loan secured by a loan over a fixed "good", usually a vehicle or equipment. There are many benefits to this, tax benefits such as depreciations and GST refunds. It also gives you working capital since you don't need to put down a large deposit