Mortgage broking
The right mortgage for the perfect home or property investment!
We know that choosing the right home loan can lead to a better life for you – and your family – and we're here to help you make that choice!
Get expert help with your home loan.
Your home is a wonderful place; a place to rest, relax and enjoy life, as well as being a great investment for the future. Having the right home loan is what makes this possible.
As your local home loan experts, we have access to hundreds of loans from a wide choice of leading mortgage lenders, including Australia's big banks and a selection of specialist lenders: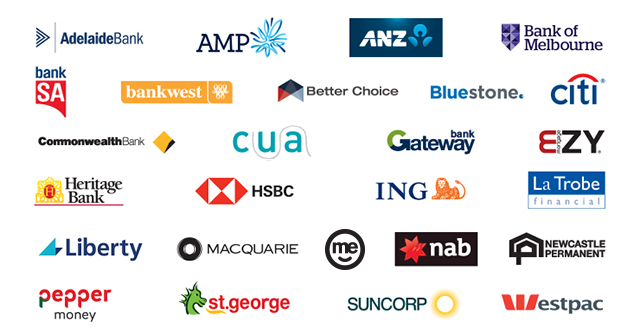 Expert advice makes the choice easy.
We know the choice can be overwhelming. As home loan specialists, we take the time to understand what's important to you and what you want from your home loan. Once we know what you're looking for, we take care of the legwork of finding the right mortgage for you.
When we've found the most suitable option, we complete your loan application and follow it through to settlement, keeping you up to date along the way. All the while, you can spend time doing the things you love, because you know we've got your covered.
Our commitment is reflected in our many ongoing client relationships. From the purchase of their first car, first home, first investment property, first renovation, first business and even leveraging their equity for the first home of their children, we've accompanied most of our clients through their life's journey, helping them achieve their goals each step of the way.
Ready to start your own journey?
Click here, send an email to chantelle.rangel@mortgagechoice.com.au or call or WhatsApp us at 0411 555 315 to book a meeting with Robert Rangel and his team at Mortgage Choice Chatswood and the North Shore.
Why work with us?
Right loan for you. At Mortgage Choice, the only thing that matters to us is the home loan that's right for you. So, as your Mortgage Choice broker, we're paid the same rate no matter which home loan you choose from our wide choice of lenders.
Wide choice. We can compare hundreds of highly competitive home loan options from a wide choice of lenders, including the big banks.
Less stress. We make it easier for you by preparing the paperwork, lodging the application and following up with the lender for you as your loan progresses to settlement.
No charge. There is no charge to you for our home loan service because the lender pays us after your loan settles.
Range of products. We can also help you with commercial loans, car loans, personal loans, asset finance, general insurance and credit cards.
We can also help you with: