January 03, 2019
Lauren Kilsby
Banks are putting up interest rates. Now's the time to refinance.
It's been an interesting year in finance and property. Property prices are dropping across the Eastern states, yet cities like Adelaide and Hobart continue to have steady growth. Interest rates rises by many of the Big 4 banks began last year, yet there are still some fantastic home loan deals in the market with smaller lenders.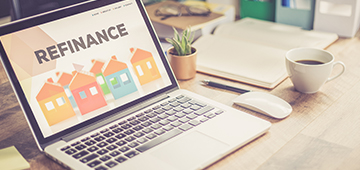 Start 2019 by getting on top of your finances and review whether your current home loan is still the best suited to your situation.
Why now?
The recent small interest rate rises from the bigger banks will see a family with a $300,000 home loan fork out an extra $35 in interest per month, while South Australians with a $500,000 home loan will spend an extra $516 a year on interest. That may not seem like much but with the rise in living expenses and stagnant wage growth, this could be significant to some households.
Thankfully, as your local Adelaide Hills home loan broker, we still have many lenders on our panel that are offering some fantastic deals for customers. With all this uncertainty with the big banks, now is the time to revisit your home loan and see if you can find yourself a better deal.
Before you start, let's look at what refinancing is and why you should consider it an option.
Refinancing a home loan involves:
Replacing your current home loan with a new one

Refinancing your home loan can offer savings on interest and/or better loan features

There are costs to weigh up when refinancing your home loan

Your Mortgage Choice broker can explain how to refinance your home loan
There's a whole variety of reasons why refinancing a home loan can be a sensible step.
Should I refinance my home loan?
If you're keen to secure a better interest rate or enjoy more loan features, refinancing your home loan can be the solution. Refinancing is also an opportunity to get control of debt or tap into any home equity you've built up.
Refinancing to secure a better interest rate
The most popular reason home owners choose to refinance a home loan is to secure a lower interest rate and reduce their monthly repayments. However, refinancing can come with some costs, so it's essential to weigh up the savings of refinancing against the expense involved.
Switch between variable/fixed rates
If you'd prefer the certainty of repayments will stay the same for a period of time, you may wish to switch to a fixed rate. Refinancing your home loan lets you do this. Or, you may decide you'd like to take advantage of a lower variable rate as you can accept the risk that rates may rise in future.
Refinancing a home loan to access home equity
Your home is likely to be one of your most valuable assets, and by harnessing home equity you have the opportunity to build additional wealth or simply achieve personal goals. Find out more about accessing your home's equity.
Refinancing a home loan to consolidate debt
Like many Australians you could have several debts – probably a home loan, a personal loan, and possibly even a credit card balance. Having multiple debts means juggling lots of different repayments.
Refinancing your home loan can provide an opportunity to streamline your debt, and potentially reduce the overall interest you're paying on multiple debts through the process of 'debt consolidation'. It means folding several high interest debts into one lower rate debt – which could be your home loan - and this may reduce your total monthly repayments.
However, it's important to note that debt consolidation can come with some downsides. It can turn a short term debt like a personal loan into a long term debt (your mortgage), and that means paying interest on the balance for a much longer period which could cost you more in the long run.
For debt consolidation to be truly cost effective, you need to commit to making additional repayments to pay off the larger loan as quickly as possible.
The video below outlines some of the benefits of refinancing to consolidate debt. Read more about debt consolidation.
We're here to help!

Whatever your home loan refinancing needs are, it won't hurt to talk to one of our home loan experts to see what can be done to help your current financial situation.
We've helped hundreds of local Hills residents over the past 15 years. Contact our friendly team who will help make your dreams come true and free up money for the things you love in life.
Our focus in on you, our client. We do all we can to help make applying for finance easy, right from the start, and we do what is best for you, not what is best for the bank. We listen to your situation and needs and then offer you various solutions that suit your requirements.
Give your local Adelaide Hills home loan experts a call on 08 8398 2955 to make a free appointment today.