Call Us
Office - 08 9300 9322
Open Hours

Monday - Friday: 9:00am - 5:00pm


After hours by appointment
Address
Unit 14, 87 McLarty Avenue
JOONDALUP,

WA

6027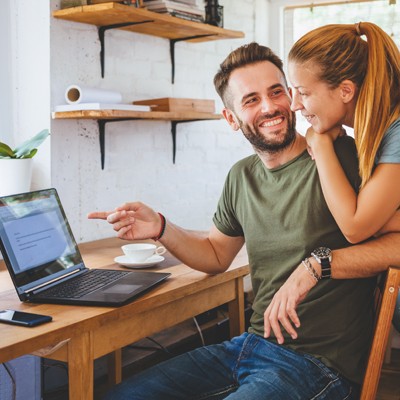 Latest home loan interest rates
The right home loan for your needs
Our mission is to find the right home loan for your individual needs and to always have your best interests at heart. Plain and simple. Which is why we have such a wide range of lenders to choose from. We can search through hundreds of products to find something tailored to your situation. ~
Russell and Lindsey were exceptional people to work with. They helped us in every way and went above and beyond, even though I was based overseas. They were there to answer any questions and they were always willing to help with any extras that we may have needed. They made it a painless and smooth process. I cannot recommend them more to anyone interested in buying their dream home.
Thanks Russell & Tina.

One of the best in their field.
Expert, Patient, reliable & honest with a good sense of humor. Russell is not just an employee doing his job, he really cares
Helped us through our first home purchase all the way till it was settled. And it was a very long way.
Very professional, helpful and painless process. Listened to my requirements and wishes and prepared an application that addressed all criteria.The fact that I lived in a remote town interstate did not hinder the process. I will be coming back to discuss investing and will refer my friends and family.
Russell has been excellent in obtaining great rates for both the properties we have purchased with his assistance. As well as finding us rates that we were delighted with his overall help and advice and the ease at which we're are able to contact him and his team removed all stress from the process of purchasing each property. I highly recommended Russell and Mortgage Choice in Joondalup.
We were very impressed from first walking through the door, told all the information we needed, then moving into our new house- 1st class. From when we arrived from the UK ,until we were granted permanent residency and managed to get a home it is a very unsettling time, so with that we would like to Thank You again for your relaxed and professional help in picking the right mortgage for us.
Excellent 10/10 Service and made it easy for me as a FIFO worker.
We would like to thank you and the team for your efforts in assisting Luke to get the finance for his 1st home especially with him getting the news just before he sets off on his holiday. Once again the team from Mortgage Choice in Joondalup has risen to the challenge.
Both Russell and Lindsey made the process of buying our first home very easy and stress free. We will definitely be using Mortgage Choice in Joondalup again.
Despite us having a difficult lending scenario Russell never gave up, and settlement has now gone through. Many thanks to Russell and his team for all their hard work!
Many thanks Russell and Tina for all of your help throughout the process of refinancing my mortgage - I really appreciate it, and couldn't have done it without your advice. Thanks again!
Excellent service and very helpful throughout the whole process in relation to finance approval and settlement. Overall, I would highly recommend Mortgage Choice in Joondalup to future clients if they are after a smooth transition and friendly operators.
Thank you Russell and Tina. At all times you were highly professional with an added personal touch. The movement from one loan provider to another was seamless. Will happily recommend you to others.
We cannot thank Lindsey and Russell enough for all of the help you have given us. You've made it very easy for us and we really appreciate that!
We were really impressed with how both Russ and Lindsey both kept us up to date with what was going on with our loan. We also appreciated the fact that it wasn't all email they actually took the time to pickup the phone as well. So it put a personal touch to our dealings.
It has been great dealing with Mortgage Choice in Joondalup on this purchase, the steady flow of information received throughout has taken the majority of the stress out of going through this process while being located overseas.

I will be sure to recommend your services to family & friends
First home buyer's guide
Purchasing your first property can be an overwhelming process and there may be steps you are unsure or unaware aware of. This guide will walk you through all of the steps involved in the buying process.