Testimonials
Reviews for Mortgage Choice in Joondalup
---
After two previous brokers were unable to help us we were given Russell's name to contact and figured we had nothing to lose. Russell was the first person to think outside the square and get us in the best position we could be for our circumstances. We are truly thankful for all the help. The relief of having our house settle in such a quick manner was wonderful. The team kept us up to date every step of the way.



---
We have had multiple dealings with Russell over the years. We keep coming back for good reason. Russell is highly knowledgeable when it comes to the myriad of mortgage options in the market place. Always taking the time to discuss the situation and tailor the right structure, Russell always goes the extra yard to help out the client. We would have no hesitation recommending Russell and his team to any future clients.



---
Russell is the best! Always answers calls or calls back really quickly. Our loan was a little complicated and he took the time to help us get it done whereas we felt some other brokers put us in the too hard pile. Thank you Russell! Highly recommend!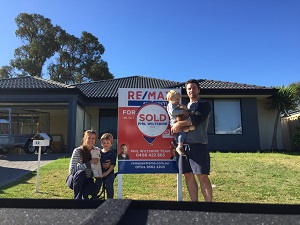 ---
The help of Mortgage Choice in Joondalup has provided us with peace of mind in attaining our dream home. The team has been outstanding and very helpful even after hours. From understanding our finances, putting an offer and finally getting our house keys, they were there every step of the way. Without them, we would struggle to understand how to buy a home and they have explained this beautifully.



---
I contacted Russell as a naive dreamer, he led us to the purchase of our new home. He was kind and graceful and always in reach. Thankyou Russell - you are appreciated.



---
I have had the pleasure to work with Russell a number of times over quite a few years now. He has always been professional, friendly and has gone the extra mile to get the best for me as a client. I would recommend him to everyone as he has integrity and honesty in abundance and always has time to listen.



---
I'd never felt the need for a broker until our latest house move, when the big bank we'd been loyal to for years, suddenly couldn't help with our new requirements. Russ came recommended by a good friend who is a property investor, and it's the best thing we've done, and secured our dream home Not only did Russell help us secure our initial loan at a great rate, but has assisted setting up a subsequent secondary loan with very specific requirements, allowing me to also buy my dream car. Highly recommended.



---
Over the years, Russell at Mortgage Choice in Joondalup has arranged a number of mortgages for me. Some were simple some were not. His wonderful service continued long after the deals were done. Never failed to promptly answer a question - should I switch to Fixed etc. Never a hint of "hard sale". He is a genuine professional and I cannot recommend him highly enough. Thanks Russell, you will always get my business.



---
A big thank you to Russell Crook and his team for making this all possible. A seamless and professional transaction for such a stressful time for us once again thanks to Russell and his team.



---
From the day we first came in for advice until settlement you and your team were excellent, helpful and available throughout the whole process, even to answering calls over the weekend. Thanks again for all your help and would not hesitate in recommending you to others. (Which as a matter of fact we already have!)



---
From the very first time I approached Russell with a more general query on refinancing our existing loan, Russell provided a service that was highly professional yet affable, making for a comfortable experience. Russell provided advice and clear explanations with some number crunching that allowed me to fully appreciate the options we had and thus remain as we were with current provider before reviewing again in 6 months. At this next review, it was like meeting an old friend catching up with Russell again, and this time he provided further options as to what we could do, but not once pushed any specific product nor financial provider. His records of what we discussed previously allowed him to fully understand what we were to talk about and there was little need to remind him of our plans. The neutral stance Russell conveys speaks of his professionalism and I felt totally that we as the consumer were going to be well looked after and he makes our priorities his own. Ultimately, Russell suggested he make contact with out current financial provider on our behalf to see if he can negotiate a better rate for our existing loan. This for us is better than changing loan providers and avoid more paper work and process for a new loan. Our provider came back to us after Russell's contact with a 0.3% reduction in our current loan, making it a most competitive rate compared to existing loans today. :Looking at recent reserve Bank interest rate cuts and what actually gets passed on, that's equivalent to 2 rate cuts on one go, additional to the Reserve rate cuts.

How wonderful to have such experience on your side. Could not recommend Russell more highly, his warm and welcoming office including his assistant Tina are not to be skipped over whether you currently have or about to dive into the world of mortgages. A++++



---
Russell was totally professional and great to deal with. He gave us great advice to maximise our investment, with clear direction and understanding. Even recommended him to a family member to use.



---
Russell has been helping us for over 10 years with a mixed commercial & residential portfolio. He is the best Broker in WA. He knows the Lenders rules back to front plus knows how to set a loan with the right lender and minimise costs & interest. It's tough out there in lender land but Russell has the ability to navigate the path through to get great results when many others can not help. save yourself time and money call Russell!



---
Very professional and knowledgeable team. Very, very transparent and fair dealing in terms providing the right and suitable product and take care of the whole package from start to end. Always gave the right information at the right time. Top class service provided to us from the first appointment to the end. We are very happy with the high class is service provided to us throughout the journey.



---
After seeing Russell at Mortgage Choice in Joondalup, I felt a great sense of relief, as buying a first home was very scary. I'm very glad I went to see Russell about helping me out. Very happy with my experience.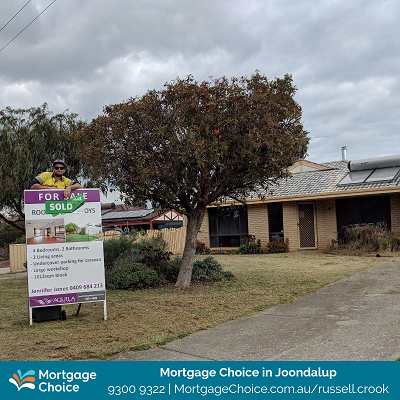 ---
We've been seeing Russell for our mortgage needs for over 15 years. He is very knowledgeable, prompt and friendly to deal with. We would recommend Mortgage Choice in Joondalup to anyone requiring a loan.



---
Russell has helped me purchase three properties over a number of years. Nothing was too much trouble for Russell and when the time came to refinance he got me a great deal. I can't recommend him highly enough.



---
You can expect Russell and his team to be thorough and professional to get you the best deal.



---
A massive thank you to Russell for helping my husband and I. It was an absolute pleasure working with you. You were very efficient, professional and approachable and we would gladly recommend your services to any of our friends and family.



---
Having you work with us made everything really smooth and stress-free. We had heard from friends that home loan applications are extremely complicated with a high risk of rejection, but for us, it was not because we had Mortgage Choice in Joondalup. From now on, we will recommend all to choose you and your team as the right specialized broker for home loan applications. We do not know how to thank you for all your support!



---
Russell has been very helpful and informative. Highly recommend his service.



---
Thanks Russell & Tina.

One of the best in their field.
Expert, Patient, reliable & honest with a good sense of humor. Russell is not just an employee doing his job, he really cares
Helped us through our first home purchase all the way till it was settled. And it was a very long way.



---
Russell has been excellent in obtaining great rates for both the properties we have purchased with his assistance. As well as finding us rates that we were delighted with his overall help and advice and the ease at which we're are able to contact him and his team removed all stress from the process of purchasing each property. I highly recommended Russell and Mortgage Choice in Joondalup.



---
Very professional, helpful and painless process. Listened to my requirements and wishes and prepared an application that addressed all criteria.The fact that I lived in a remote town interstate did not hinder the process. I will be coming back to discuss investing and will refer my friends and family.



---
We were very impressed from first walking through the door, told all the information we needed, then moving into our new house- 1st class. From when we arrived from the UK ,until we were granted permanent residency and managed to get a home it is a very unsettling time, so with that we would like to Thank You again for your relaxed and professional help in picking the right mortgage for us.



---
Russell has been helping myself and my family for a very long time. I will only go with Russell and I recommend him to everyone.



---
Always professional and we were able to rely on a prompt service from the team at all times



---
Excellent 10/10 Service and made it easy for me as a FIFO worker.



---
We would like to thank you and the team for your efforts in assisting Luke to get the finance for his 1st home especially with him getting the news just before he sets off on his holiday. Once again the team from Mortgage Choice in Joondalup has risen to the challenge.



---
Both Russell and Lindsey made the process of buying our first home very easy and stress free. We will definitely be using Mortgage Choice in Joondalup again.



---
Despite us having a difficult lending scenario Russell never gave up, and settlement has now gone through. Many thanks to Russell and his team for all their hard work!



---
We are very grateful to Russell for his expertise, not just in organising the mortgage for this particular house purchase but also his helpfulness over the years in answering all our mortgage related questions and providing various loan scenarios for us to consider. The follow up client service provided by Lindsey was exemplary. She liaised with the lender and conveyancer to ensure the the house purchase flowed as smoothly as possible. The fact that we were living interstate did not present any additional hurdles for Russell or Lindsey as all issues were dealt with expeditiously by phone and email to ensure a seamless client experience. Thank you Russell and Lindsey.



---
Went way beyond what we expected. The whole process was made extremely easy for us. Have no problems in recommending them.



---
Many thanks Russell and Tina for all of your help throughout the process of refinancing my mortgage - I really appreciate it, and couldn't have done it without your advice. Thanks again!



---
Top service from start to finish thank you Russell and Lindsey



---
Excellent service and very helpful throughout the whole process in relation to finance approval and settlement. Overall, I would highly recommend Mortgage Choice in Joondalup to future clients if they are after a smooth transition and friendly operators.



---
Thank you Russell and Tina. At all times you were highly professional with an added personal touch. The movement from one loan provider to another was seamless. Will happily recommend you to others.



---
We cannot thank Lindsey and Russell enough for all of the help you have given us. You've made it very easy for us and we really appreciate that!



---
We were really impressed with how both Russ and Lindsey both kept us up to date with what was going on with our loan. We also appreciated the fact that it wasn't all email they actually took the time to pickup the phone as well. So it put a personal touch to our dealings.



---
It has been great dealing with Mortgage Choice in Joondalup on this purchase, the steady flow of information received throughout has taken the majority of the stress out of going through this process while being located overseas.

I will be sure to recommend your services to family & friends



---
We have used Mortgage Choice in Joondalup in setting the original loan on our home along with one we have on an investment property and now a refinancing deal on our home. We have been very happy with process each time and feel that they are very professional but also retains the personal service needed when making such large decisions.



---
I could not be happier with the Service and professionalism from both Russell and Lindsey. What a team. Accurate, timely and patient with me as our loan scenario was far from standard...Thanks!



---
I had problems securing a mortgage through my own bank and the process had taken 2 weeks still with no confirmation. I made one phone call to Russell at Mortgage Choice in Joondalup and he got back to me very quickly with details of a lender and the interest rate was even better than my own bank. From sign up to approval it only took a day and a half. Could not have been happier with the service I received from Russell. Absolutely brilliant.



---

Thank you Lindsey and Russell! Always a pleasure dealing with you and would never hesitate to recommend you!



---
The service was quick and we were kept in constant touch for everything as it progressed.



---
Very helpful, accommodating and experienced, Russell provided us with sound financial advice and options to consider. We were very happy with Russell and his team's commitment to providing a consistently high level of customer service from start to finish which included liaising with the lender and conveyancer to ensure everything ran as smoothly as possible.



---
Russell and Lindsey were exceptional people to work with. They helped us in every way and went above and beyond, even though I was based overseas. They were there to answer any questions and they were always willing to help with any extras that we may have needed. They made it a painless and smooth process. I cannot recommend them more to anyone interested in buying their dream home.



---
Thanks Lindsey and Russell, stellar job, thank you so much for getting this sorted so promptly especially over the festive season!