April 08, 2015
Rebecca Crommelin
What are the procedures for applying for a home loan?
After I have had an initial conversation with you via the phone, I will arrange an appointment at a time convenient for you. Following this initial phone call, you will receive an email detailing the required information to bring with you to your appointment such as pay slips, identification etc.
During this appointment, I will assess the application with you and go through what you are looking for in regards to a home loan.
Together, we will then narrow down the three best lenders which suit your financial needs and finalise which lender meets your home loan requirements.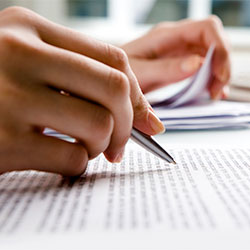 From there, I finalise the required paper work that needs to be signed and submit the application to the lender.
After submission, I will continue to follow up with the lender on a regular basis until the approval of the loan. This ensures that your application runs smoothly and efficiently to get you into your home sooner!
To learn more, watch our video blog on the home application process...
For further information or to kickstart your home loan application process, contact me today at Mortgage Choice in Blackwood & Mitcham on (08) 8178 0700.
Charlotte Gray, Your Local Mortgage Broker
charlotte.gray@mortgagechoice.com.au
Find out more about Mortgage Choice in Blackwood
Start calculating your potential home loan repayments now