Solution finder
It all starts with a goal, what's yours? and
and have met with a broker
You're well on your way…
You're well on your way to finding the right home loan and owning your first home. Here you'll find handy tips and guides for the next steps.
What I
need

to know
Expert advice at no cost to you
Find out how our brokers get paid, and why we don't need to charge you for our home loan service.
Home buying advice
Find out more about the steps involved in buying a home, and access downloadable guides and videos.
First home buyer FAQs
As a first home buyer, it's natural that you'll have hundreds of questions to ask. We've compiled the top ones here for you.
Learn more
Latest
home loan

interest rates
Help me
work out

...
First
home buyer's

guide

Purchasing your first property can be an overwhelming process and there may be steps you are unsure or unaware aware of. This guide will walk you through all of the steps involved in the buying process.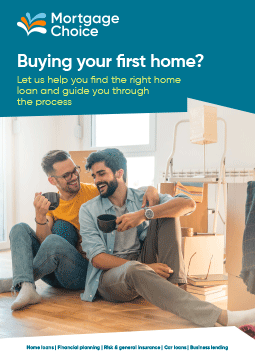 What makes us different?
At Mortgage Choice we pay your broker the same rate of commission, no matter which home loan you choose from our wide choice of lenders.
Saving your home loan deposit
What does 'guarantor' mean?
Things can
change quickly

in the market.
Subscribe and stay informed with news, rates and industry insights.