Call Us
Office - 02 9698 1800
Fax - 02 9698 1807
Open Hours

Monday - Friday: 8:00am - 6:00pm
Address
303 Cleveland Street
REDFERN,

NSW

2016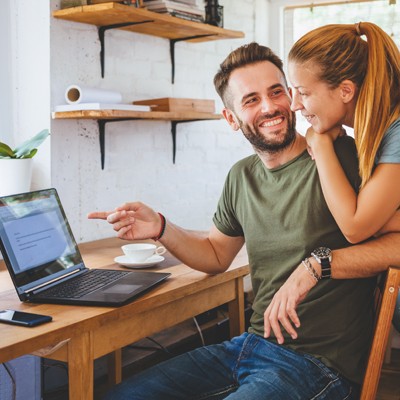 Latest home loan interest rates
The right home loan for your needs
Our mission is to find the right home loan for your individual needs and to always have your best interests at heart. Plain and simple. Which is why we have such a wide range of lenders to choose from. We can search through hundreds of products to find something tailored to your situation. ~
Stephen, Owen and the entire team at Mortgage Choice Surry Hills, have been looking after us for a number of years. We have now completed 3 separate mortgages with them, since our first home. They have always gone above and beyond, ensuring the process is stress free. We trust them implicitly and really feel they have helped grow our finances and advance our position. We always come away knowing they have our best interests at heart. Not only are they super efficient, but they are an exceptionally friendly team and we always enjoy our dealings with them. We are beyond happy with their exemplary service and we can't recommend them highly enough.
This is my third experience with Stephen Rossiter at Mortgage Choice Surry Hills. They made the process so simple that I have to credit them, in part, with my success as an investor in the property market thus far. I would, and have, recommended them to friends and family. Thanks again.
Stephen Rossiter, Jacob and the team at Mortgage Choice Surry Hills have been an amazing support throughout the entire journey that is property ownership. We have been kept very much informed about the process the entire way, and Stephen was amazing in making sure all the i's were dotted and t's crossed. No question was too silly, and all the jargon that goes along with a mortgage was explained in such a simple way. I cannot recommend the team highly enough!
Everyone at Mortgage Choice Surry Hills is professional, friendly and available. Talking finances at 8am could easily be challenging and painful, neither was the case. So thank you to Stephen Rossiter and the entire team.
The team at Surry Hills Mortgage Choice have always provided an excellent and thorough service. Constant and timely updates are par for the course, plus an ongoing support that has been well above my expectations. I can't fault Stephen, Owen or Jacob's service!
We have used Mortgage Choice in Surry Hills for a number of investment property purchases and will continue to choose them as we have a great relationship with both Stephen and Jacob, and find their knowledge invaluable.
Over the years we have arranged a number of loans for residential and investment purposes and have always been impressed with the expertise and professionalism of Stephen Rossiter, Owen Evans and the team. I would have no hesitation in recommending them.
Hi Derek, thanks again for all your help, we never could have organised such comprehensive and complete insurance cover on our own. It's given us great peace of mind. We found your work very comprehensive, you explained everything very carefully and clearly. It's obvious too, how much work you put in to tailor your advice to our situation so thank you again for your excellent work.
Thank you so much for your help! It was a pleasure working with you guys. Special thanks for all your assistance in the last few days while we had dramas with the bank. Our conveyancer Lesley said to me over the phone that she works with a lot of mortgage brokers, and that Stephen Rossiter and Jacob are the best you could encounter. She was so impressed with how you sorted things out! So well done, we're so appreciative.
Thank you, Jason, for all your efforts in helping us buy our first home. When we first chatted some 15 months ago I thought it was never going to happen, however your enthusiasm and drive really made it happen in our opinion. You are really one of a kind.
Jason Lin helped me find a loan when no-one else would help me! I had a unique set of circumstances and many mortgage brokers turned me away but Jason was positive and helpful from the very start until getting it over the line for me. It took several months but he never gave up. Jason and Shivani at Mortgage Choice Surry Hills kept me updated and kept pressuring those that were blocking the progress of my loan being approved until it finally came through. They are lifesavers!

We now have 5 home loans which have been organised through the Mortgage Choice Surry Hills office. Our experience is always filled with expert advice and efficient service. We would highly recommend working with Stephen, Owen and the team. We really do work with ease with everyone in the office, and think you already have the winning formula!
I would highly recommend the services provided by the team at Mortgage Choice in Surry Hills. Their services and expertise were professional, knowledgeable and reliable with friendly and personable staff. They work hard with you, and for you, every step of the way, removing much of the stress and hassle that comes with looking for and buying a home.
It's been a painless process working with Stephen Rossiter at Mortgage Choice in Surry Hills. Being a first time buyer I was pretty unfamiliar with the process and all the options available but Stephen explained them all clearly and recommended options that were appropriate to me. The team kept me up-to-date throughout the entire process. I would certainly recommend Mortgage Choice Surry Hills to anyone looking for hassle free advice.
First home buyer's guide
Purchasing your first property can be an overwhelming process and there may be steps you are unsure or unaware aware of. This guide will walk you through all of the steps involved in the buying process.