Mortgage Brokers in Surry Hills
Call us or visit our website to get in touch. Click the button to book an online video meeting.
Call Us
Office - 02 9698 1800
Fax - 02 9698 1807
Open Hours

Monday - Friday: 8:00am - 6:00pm
Address
303 Cleveland Street
REDFERN,

NSW

2016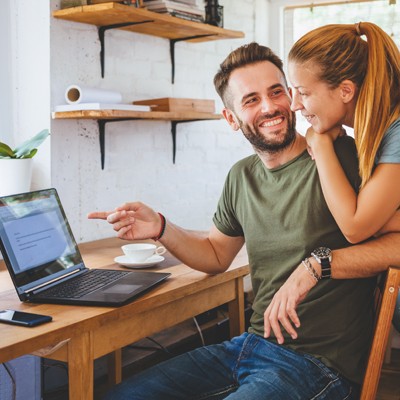 Latest home loan interest rates
Hi and welcome from Stephen Rossiter and Owen Evans. We're your local mortgage brokers in Surry Hills and in the inner city; Waterloo, Darlinghurst, Redfern and Alexandria. We've been established in Surry Hills for over fifteen years and live in the local area. So we are committed to preserving your best interests as we would preserve our own.
We have an experienced and diverse team of mortgage brokers who have worked in the banking system, funds management, financial services and more. Regardless of your personal situation, there will be someone who can help you. They will ensure there is:
• a detailed understanding of your needs and dreams
• absolute accuracy on applications
• precise follow up with lenders
• clear reporting to clients via regular communication
In the end, this will deliver the right outcome for you. We pride ourselves on having the home loan, mortgage broking and financial advice experience and expertise to deliver this outcome across a broad range of situations.
Our home loan services
There are many home loan services our Surry Hills mortgage broking staff can help you with and this includes but isn't limited to:
• Finance for high-density dwellings, inner-city postcodes, smaller units and studios
• Investment loans and specialist advice for investment purchases.
• Off the plan purchase loans
• Loans for company title purchases
• Deposit bonds
• Car loans and equipment finance
• Finance for co-ownership and property share agreements
• Relocation loans - bridging finance
• Loans for the newly-arrived: experience in finance for Working-, Spousal- and other Visas
What's right for you?
We understand the busy inner-city lifestyle. We live it. So we make it a priority to cater to all the unique demands we encounter, whether it's in Surry Hills, Redfern,  Alexandria or Waterloo, to find the deal that's right for you. Our mortgage staff want to make the home loan and financial advice process easy and simple for you. You understand the choice you've made and are confident in the decision.
We can answer all of your questions, including:
• 'Can I secure this property?' We will compare all your home loan options and provide you with honest and expert advice. Our staff's skills and experience are diverse and we're focused on keeping your best interests at heart. Everyone's financial situation is different and we will help you with yours.
• 'How long does the home loan process take?' We can tell you that in a perfect world we'll have loan approval for you in 5-7 business days, but if this doesn't happen then we can tell you why it didn't work smoothly and then fix it. No matter what, you are in good hands.
What's next?
Book a meeting – click here to book a meeting with one of our brokers immediately, at a time that suits you (or call us on 02 9698 1800). We'd love you to come in just to discuss your goals and answer your questions; education and understanding are a major part of the service we provide. So, call us to discover how simple we make the home loan and financial advice process.
We are located at 303 Cleveland Street, Redfern (on the corner of Walker Street) - street parking is fine in Walker Street or close by. Give us a call on (02) 9698 1800 and you can meet us at any time between 8:00 am and 6:00 pm.
We look forward to hearing from you.
The right home loan for your needs
Our mission is to find the right home loan for your individual needs and to always have your best interests at heart. Plain and simple. Which is why we have such a wide range of lenders to choose from. We can search through hundreds of products to find something tailored to your situation. ~
Client reviews
Tracey was a very professional broker. She went above and beyond to assist us with the loan. She kept us updated throughout the process and coordinated with the bank constantly to get the best result. When I have questions she alway provide the prompt answer even outside of the biz hours. Best experience with her, highly recommended
Extremely satisfied with Mortgage Choice Surry Hills the team did an amazing job to secure a loan for me, very professional and approachable and easy to talk to in what turned out to be a different task I would highly recommend them to everyone.
As first home buyers, they made the process easy to understand. The team were very helpful and supportive throughout the entire process.
Amazing team. Provided great support through every step of the refinancing process.
Tracey was wonderful It's clear that she is knowledgeable in this is field whilst not compromising on being reassuring, patient, clear and thorough throughout our discussion. I recommend her without hesitation
Excellent and timely service from Jonathan and team. Jonathan and team provided an exceptional service under a tight time frame in somewhat complicated circumstances. They advised us of lots of options we didnt know about. As a result we had everything we needed to feel confident bidding at auction for a home that we had previously thought wasnt an option for us. A job well done Thanks guys
Tracey Kee really knows her stuff and provide a wealth of valuable information and guidance on unfamiliar but really important financial options. Thanks
Professional team, exceptional service, excellent results. Ive got to hand it to Stephen Rossiter and his professional, well organised team at Mortgage Choice Surry Hills, NSW. They have gone above and beyond assisting us with our two home loans SMSF and our new home. We reside in Victoria and everything is managed by the Surry Hills team in NSW, always delivering exceptional and friendly service.... read more
Thank you, thank you, thank you
To Jonathan and the team for helping us with refinancing our home loans. We couldn't have done it without you Jonathan and I really don't want to imagine where we would be if you hadn't helped us. So again, the biggest thank you.
I've been with Mortgage Choice for over 5 years I've honestly lost count. The team are very professional, efficient and always ready to answer any of our questions. I wouldn't trust my loans with anyone else.
Excellent and timely service from Jonathan and team. Jonathan and team provided an exceptional service under a tight time frame in somewhat complicated circumstances. They advised us of lots of options we didnt know about - including using a deposit bond, getting bridging finance, and negotiating certain terms of the contract before auction to suit our circumstances. As a result we had everything we needed to feel confident bidding at auction. A job well done Thanks guys
Stephen, Owen and the entire team at Mortgage Choice Surry Hills, have been looking after us for a number of years. We have now completed 3 separate mortgages with them, since our first home. They have always gone above and beyond, ensuring the process is stress free. We trust them implicitly and really feel they have helped grow our finances and advance our position. We always come away knowing they have our best interests at heart. Not only are they super efficient, but they are an exceptionally friendly team and we always enjoy our dealings with them. We are beyond happy with their exemplary service and we can't recommend them highly enough.
This is my third experience with Stephen Rossiter at Mortgage Choice Surry Hills. They made the process so simple that I have to credit them, in part, with my success as an investor in the property market thus far. I would, and have, recommended them to friends and family. Thanks again.
Stephen Rossiter, Jacob and the team at Mortgage Choice Surry Hills have been an amazing support throughout the entire journey that is property ownership. We have been kept very much informed about the process the entire way, and Stephen was amazing in making sure all the i's were dotted and t's crossed. No question was too silly, and all the jargon that goes along with a mortgage was explained in such a simple way. I cannot recommend the team highly enough!
Everyone at Mortgage Choice Surry Hills is professional, friendly and available. Talking finances at 8am could easily be challenging and painful, neither was the case. So thank you to Stephen Rossiter and the entire team.
The team at Surry Hills Mortgage Choice have always provided an excellent and thorough service. Constant and timely updates are par for the course, plus an ongoing support that has been well above my expectations. I can't fault Stephen, Owen or Jacob's service!
We have used Mortgage Choice in Surry Hills for a number of investment property purchases and will continue to choose them as we have a great relationship with both Stephen and Jacob, and find their knowledge invaluable.
Over the years we have arranged a number of loans for residential and investment purposes and have always been impressed with the expertise and professionalism of Stephen Rossiter, Owen Evans and the team. I would have no hesitation in recommending them.
Hi Derek, thanks again for all your help, we never could have organised such comprehensive and complete insurance cover on our own. It's given us great peace of mind. We found your work very comprehensive, you explained everything very carefully and clearly. It's obvious too, how much work you put in to tailor your advice to our situation so thank you again for your excellent work.
Thank you so much for your help! It was a pleasure working with you guys. Special thanks for all your assistance in the last few days while we had dramas with the bank. Our conveyancer Lesley said to me over the phone that she works with a lot of mortgage brokers, and that Stephen Rossiter and Jacob are the best you could encounter. She was so impressed with how you sorted things out! So well done, we're so appreciative.
Thank you, Jason, for all your efforts in helping us buy our first home. When we first chatted some 15 months ago I thought it was never going to happen, however your enthusiasm and drive really made it happen in our opinion. You are really one of a kind.
Jason Lin helped me find a loan when no-one else would help me! I had a unique set of circumstances and many mortgage brokers turned me away but Jason was positive and helpful from the very start until getting it over the line for me. It took several months but he never gave up. Jason and Shivani at Mortgage Choice Surry Hills kept me updated and kept pressuring those that were blocking the progress of my loan being approved until it finally came through. They are lifesavers!

We now have 5 home loans which have been organised through the Mortgage Choice Surry Hills office. Our experience is always filled with expert advice and efficient service. We would highly recommend working with Stephen, Owen and the team. We really do work with ease with everyone in the office, and think you already have the winning formula!
I would highly recommend the services provided by the team at Mortgage Choice in Surry Hills. Their services and expertise were professional, knowledgeable and reliable with friendly and personable staff. They work hard with you, and for you, every step of the way, removing much of the stress and hassle that comes with looking for and buying a home.
It's been a painless process working with Stephen Rossiter at Mortgage Choice in Surry Hills. Being a first time buyer I was pretty unfamiliar with the process and all the options available but Stephen explained them all clearly and recommended options that were appropriate to me. The team kept me up-to-date throughout the entire process. I would certainly recommend Mortgage Choice Surry Hills to anyone looking for hassle free advice.
First home buyer's guide
Purchasing your first property can be an overwhelming process and there may be steps you are unsure or unaware aware of. This guide will walk you through all of the steps involved in the buying process.