Financial planning
Financial Planning | Mortgage Choice in Pakenham & Beaconsfield

The old saying is still true today: if you fail to plan, you plan to fail. And it's the same with your money. Having a plan in place is going to get your money working harder for you no matter how much you earn.
You may want to put together a plan to create wealth, build your retirement income or simply get some help with budgeting so you can buy your first house. We can also make sure that you and your family are covered should anything happen.
Let us be your money coach!
The financial planning team at Mortgage Choice in Pakenham & Beaconsfield are passionate about helping people build a plan for their money. We can help you reach your financial goals, whether it be saving for a house deposit or investing your money and building wealth for the future.
Our financial adviser, Deepak Bansal, will work with you to help realise your financial possibilities and achieve your goals sooner while making sure your lifestyle is fully protected along the way.
Even if you're pretty financially savvy… it's a rare person who wouldn't want an expert on hand to help you get ahead and make the most of your money – all while taking care of the grunt work!
What is a financial plan?
We help you with advice for all life's stages
As Australians, we don't often understand the benefits of financial planning at all stages of our lives.
You may just be building your career and want to buy a house in the next 2 years.
You might be starting your family and would like to start investing and building an income for your family while making sure they're protected should anything go wrong.
Or you could be nearing retirement and want to make sure your income will support your lifestyle after you finish work.
Wherever you may be in life, financial planning can help you.
We cover the cost of the first appointment
We're so passionate about the benefits of financial planning, whether you're 25 or 65 years old, that we cover the cover of the first appointment with our financial adviser, Deepak.
To book your free first appointment, call us on 0400 400 000 or click on the Contact us button at the top of the page.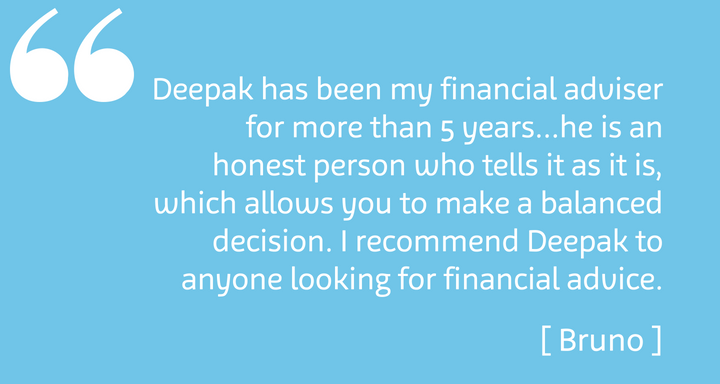 Meet our adviser, Deepak