October 02, 2017
Isabelle Mun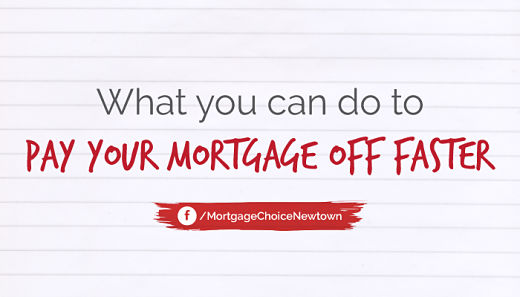 Having a mortgage in place can be both exciting and daunting. You have your very own home and now get to pay off your mortgage! Would you like to pay off your mortgage faster?
If your answer matches the majority, which is "of course!", then don't fret - below you will find a few simple tips that every borrower can do to successfully pay down their debt faster.
Use your home loan features effectively
Taking full advantage of your home loan features is one of the best ways to quickly pay down your debt. Features such as an offset account, or a redraw facility can work wonders for you and your loan term.
An offset account is a transactional account linked to your home loan, which could potentially cut years off your mortgage.
A redraw facility allows you to make extra repayments, and draw on the accumulated 'buffer' in times of need.
Example: Bob has a 30 year, $500,000 mortgage with an interest rate of 4%. If Bob has an offset account connected to his loan, and he has $10,000 in this account from day one, he could save approximately $22,445 in interest over the life of his loan, and reduce his loan term by roughly nine months.
Make higher repayments
One of the best ways to reduce your mortgage is to make higher frequent repayments. By increasing your monthly mortgage repayments by just $100, you could save yourself thousands of dollars over the life of your loan.
Example: Say again, Bob has a 30 year, principal & interest $500,000 home loan with an interest rate of 4%. His monthly mortgage repayments are $2,387. If Bob were to increase his regular repayments by $100 and thus pay $2,487 each month, he could save himself $30,474 in interest, and shave over two years off his loan term.
Have a budget
A 'good' budget will factor in all of your regular spending habits, showing you how much you spend each month and how much you can save. You can inject all the money you save into your offset account or redraw facility to help you down your mortgage faster.
Inject additional cash into your mortgage
It's a good idea to inject any additional funds that you may come across into your mortgage. Whether you get paid a work bonus or usually receive money back from the tax man at the end of the financial year - inject it into your mortgage. By making yearly lump sum payments on top of your regular monthly mortgage repayments, you can save yourself thousands of dollars in interest.
Example: Each year Bob gets $2,000 back after completing his tax. If he were to inject that $2,000 into his 30 year, $500,000, 4%p.a. Principal & interest mortgage in the first year, he could save himself over $4,000 in interest and shave almost three months off his loan term. If he continued to annually inject his $2,000 tax return into his mortgage on top of his regular monthly repayments, he could save tens of thousands of dollars over the life of his loan and reduce the loan term by years.
Review your mortgage regularly
A home loan health check will show you whether or not there is a product on the market that is not only better suited to your needs but has a sharper interest rate.
Example: If Bob were to refinance his $500,000, 4%p.a. Within the first 5 years with a new interest rate of 3.79%, he could potentially save over $15,000 in interest.
So call or email us at the office today to get a home loan health check, and our finance experts can help you potentially save thousands! You can reach us on 9517 1818 or newtown1@mortgagechoice.com.au. Or, if you feel like dropping in, you'll find us at 557a King Street, Newtown, NSW 2042.
How is your home loan term looking? We'd love to hear your thoughts and experiences, so leave a comment and be sure to share our blog on social media to let others join in the conversation.