November 13, 2017
Isabelle Mun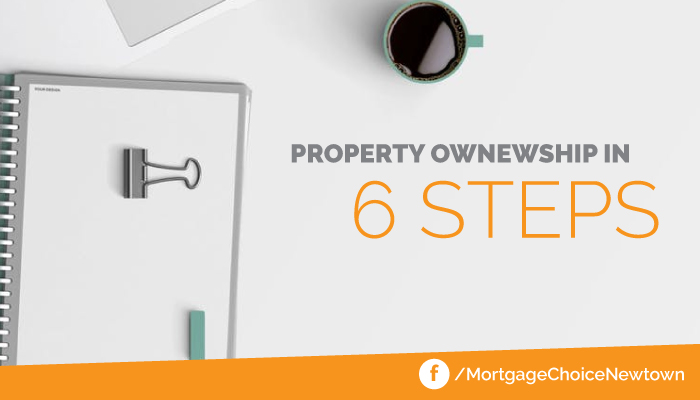 The process of buying your own property is exciting. You've done the hard yards of saving up and you are finally able to purchase your very own property. A place for you to call home.
Of course, before you get the keys and make it your own, there are 6 steps you need to take first:
1. Start the savings habit early
As a general rule of thumb, it is good to have a deposit of at least 10 percent of the value of the property you're looking to purchase. That being said, the bigger the deposit, the better. The larger amount you save up for a deposit could see you avoiding paying Lenders' Mortgage Insurance. The discipline of budgeting and regularly saving is also great preparation for managing the new mortgage plus the ongoing costs of property ownership.
2. Explore your home loan options
A home loan is likely to be the key to your property
purchase. Potential property owners should have a good grasp on their ability to borrow money before they start the property search. With the wide range of
home loan options in the market, it is crucial to set aside time with a professional
mortgage broker, such as whom we have in the office, to explore the loan types
available to you, including how much you can borrow and the deposit size
needed. This will help you to set realistic savings targets and timeframes.
3. Have your finance pre-approved
Loan pre-approval lets you head into the purchase process
knowing the maximum amount you have to spend on the property, giving you
the confidence to buy at auction or negotiate on price and saving you time looking
at places that aren't in your price range. Keep in mind pre-approved finance is
typically a limited time offer and it does not lock you into a loan.
4. Look carefully at the contract, the devil can be in the
detail
Once you have found a suitable property, go through the
contract with a fine tooth comb and ensure that there is enough time built in
for pest and building inspections. If making an offer on a property as opposed
to buying at auction, check to see if the contract includes a cooling off
period and/or subject to finance clause. Further, it may pay to see if the
settlement period suits you and your current living arrangements. Your
solicitor or conveyancer can help with this step and may request changes on
your behalf.
5. Finalise your finance by having current information on hand
After making an offer/placing a bid on a property, it is time
to finalise your finance. For final loan approval, you will need all your
up-to-date financial details. This includes verifying your current income,
savings and assets as well as liabilities, including any outstanding debts,
loans, etc. In preparation for unconditional loan approval, we can provide you
with a list of all the documentation you will need to have ready so that the
application proceeds as quickly as possible.
6. Before settlement, gather useful information from the
agent and seller
Before you move in, it often pays to gather as much
information about the property as possible. Finding out when the strata and/or
council rates are due as well as who the current utility providers are will help
you to build an effective budget.
While the road to home ownership isn't always smooth, good
preparation can help the entire process run a lot more efficiently.
If you would like any more home loan tips or would like to review your finances, get in touch with us - call 9517 1818 or email newtown1@mortgagechoice.com.au. We would be delighted to help you, it is our area of expertise after all.