September 14, 2015
Ali Batten
There is constant talk about Self Managed Superannuation Funds (SMSF) in the news and amongst friends and family. This leads to many questions from our clients asking what exactly is a SMSF, what is involved and why should they set one up.
We thought we would take the opportunity to explore how SMSF works, the advantages and disadvantages of SMSF and whether it may be suitable for your situation.
SMSF BASICS
An SMSF is a type of complying superannuation fund. Complying superannuation funds are tax-favoured trusts used to accumulate and hold retirement savings.
The key requirements for a SMSF are: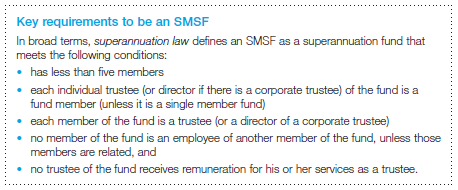 Source: Macquarie
The key difference to note is that, unlike being a member of traditional super fund (think Australian Super, AMP or CBUS), members are also required to be Trustees of the SMSF and ultimately become responsible for ensuring the SMSF adheres to the laws and regulations to remain a complying fund.
The next decision is to appoint a Trustee - which can be a company or you as an individual, as noted below.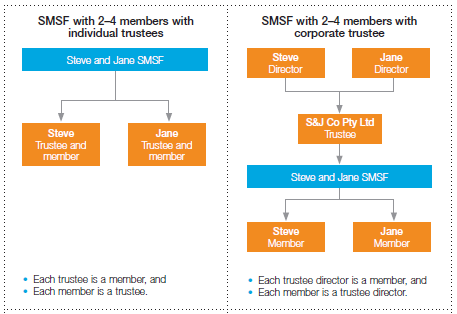 Source: Macquarie
There are pros and cons of each trustee structure, such as establishment costs, flexibility, liability issues and estate planning considerations. These issues should be considered before setting up the fund to ensure the correct structure is implement. We would generally set up a SMSF with a corporate trustee.
ADVANTAGES AND DISADVANTAGES
There are numerous advantages and disadvantages of setting up a SMSF for your superannuation savings, we have noted some key issues below: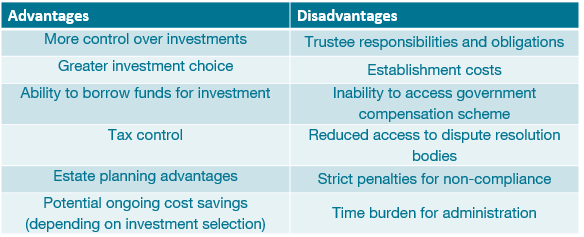 IS AN SMSF RIGHT FOR YOU?
If you can answer 'YES' to the following questions, a SMSF may be right for you:
• Do you have a sufficient balance to make SMSF a financially viable option (minimum $150,000)?
• Do you wish to:
- Control your investment?
- Gain access to certain investments not available within your existing traditional super product (e.g. direct property)?
- Use the flexibility of the SMSF to structure estate planning, social security and retirement planning outcomes?
• Do you have some time, interest and ability to establish and maintain a fund in accordance with all the various rules and regulations?
If you would like to further explore SMSF as an option for your wealth creation Contact us on 02 9517 1818 to start the conversation!