December 11, 2017
Isabelle Mun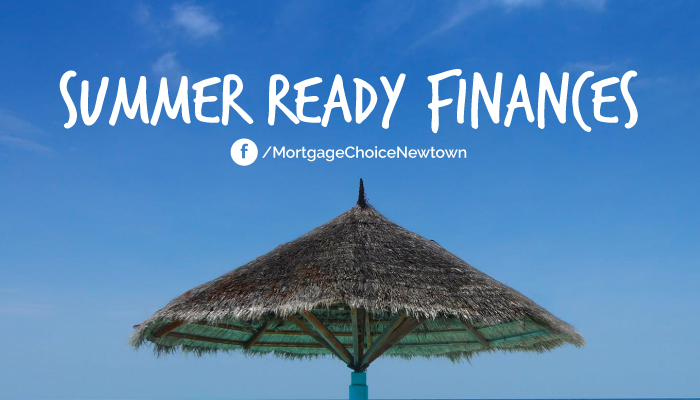 Time is of the essence for most of us, and while reviewing your financial situation can seem like a hassle, having your finances in order before the festive season unravels itself can really be of a great benefit to you down the track. With the first Australian summer weekend having just surpassed, now is the time to get your finances summer ready.
Our team of financial experts can help you with this too! You may find that by having our team review your mortgage, you are able to improve your property loan repayment strategy which could save you money as well as help you to relax and unwind a little more over the summer holidays.
But don't just stop at your mortgage. At Mortgage Choice in Newtown, we like to take a holistic view of your finances, together we can take the time to review your entire financial situation and make sure you are in the best possible position for your needs.
Here are some tips to help you get your finances summer ready:
1. Reassess your personal budget
Track your spending for a couple of weeks, noting each time you spend any amount of money. Think about daily, weekly, monthly and annual costs you can remove, even seemingly insignificant costs such as takeaway coffee. You may be shocked at where your money goes - and how quickly!
2. Review your loans, credit cards, and other debt
There could be ways you can pay your mortgage off sooner, or in a savvier manner. Collect your home loan, credit card, and any other debt statements and bring them into our office. We can help you get a clearer understanding of your financial situation and how best to move forward with it.
3. Get a free home loan health check
The Australian mortgage market is constantly changing. There are hundreds of choices available to you, and the chances are, there is a loan product that could be more suited to your budget and needs. We can provide you with an obligation free home loan health check - at no cost to you.
During the Summer holidays, people have more time to spend with friends and family, but they also have more time to spend their money. Get your finances summer ready.
Get in touch with our office today, call 02 9517 1818 or email newtown1@mortgagechoice.com.au and we can review your entire financial situation.