September 11, 2017
Isabelle Mun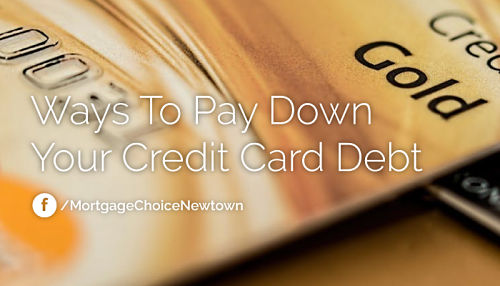 The current credit card debt for Australians is over $32 billion, according to recent data from the Australian Securities and Investment Commission (ASIC). That's an average owing of $4,300 per card holder. Although credit cards can be a great tool with lots of added perks, lack of knowledge of how to manage funds and wisely use credit cards can send anyone into the seemingly never-ending debt tunnel.
However, if you hold yourself accountable and take on a structured, disciplined approach to paying off your cards and using them wisely, it is possible to fall back in love with your little plastic-card friend and live the dream, credit card debt free.
A dream written down with a date becomes a goal.
A goal broken down into steps becomes a plan.
A plan backed by action, makes your dreams come true.
Make A Plan
In this plan, make sure you have clear goals on how you plan to minimise your debt. To start off, set small steps with small achievable goals.
If you can a couple of different credit cards, try paying off the one with the smallest debt first and then the card with highest interest rate should be next on your list.
If you find yourself unable to pay off your credit card debt in full each month, try living by these simple rules:
Set Yourself a Budget and Review It Regularly
It can be very easy to rack up more debt on your card than you can afford to repay, so it's important to stay in control. A good budget should include all your regular incomings (wage) and outgoings (bills, rent or mortgage repayments, groceries, various every-day living expenses etc.). Track your outgoings for a few months to make sure you've accounted for everything.
Live Off Cash
Withdraw a set amount of cash (which you have calculated in your budget) each week. This will ensure you only spend as much as you can afford and ultimately avoid impulse buys. All extra cash you have left over should then be put towards paying down your debt in addition to your monthly minimum repayments.
Start Paying Off More than the Minimum Repayments - and on time
When you get your credit card statement, check the date when payment is due, and make sure you pay it on time. This will help you avoid extra interest charges or hefty late payment fees. If you cannot afford to pay off your credit card in full each month, make sure you pay off more than the suggested minimum amount - even an extra $50 per month will make a big difference. This will ensure you pay down your debt faster and don't fall victim to simply paying the interest you owe on the debt, rather than the debt you have actually accrued.
Set a Sensible Credit Limit
Your credit limit should be an amount you know you can repay, and one that won't tempt you to spend more than you can afford. If you need to increase the limit to make a special purchase, aim to pay the debt down quickly, then lower your limit back to a more manageable amount.
By following these simple rules, you should start to see a light at the end of the credit card debt tunnel.
Avoid Temptation
If, even with these steps, you're finding yourself unable to stay on top of your debt, pay off your current bill and then cancel the card. Make sure to close the account properly too, if not, you could still be charged fees or penalties, even if you cut up the card and no longer use it. Sometimes, the best way to avoid temptation is by removing it from your life.
Our finance experts can help you sort out your debt and reduce your reliance on credit cards. Call us at the office today on 9517 1818, or email us on newtown1@mortgagechoice.com.au to discuss your options. Or, if you feel like dropping in, you'll find us at 557a King Street, Newtown, NSW 2042.
How is your budget working for you? We'd love to hear your experiences and opinions! Leave a comment and share our blog to let others join in too.