Testimonials
We work hard to make sure that you are delighted
The highest compliment our customers can give us is to recommend us to a friend. We appreciate your referrals. Our commitment to our client's needs is reflected in a large number of highly valued repeat and referral customers.

See below why many trust us!
---
I needed to organise finance quite quickly. Suzanne and the team were super helpful in not only responding quickly but also dealing with all my questions and organising everything that was required. Thank you to everyone. Your help is really appreciated. I will be sure to recommend Suzanne and the team to my friends and will definitely be back should I need any further help or advice with my finances. Thank you!



---
Appreciate your help and professional service of your whole team. You made the process super easy and smooth. Definitely recommend your services to my colleagues.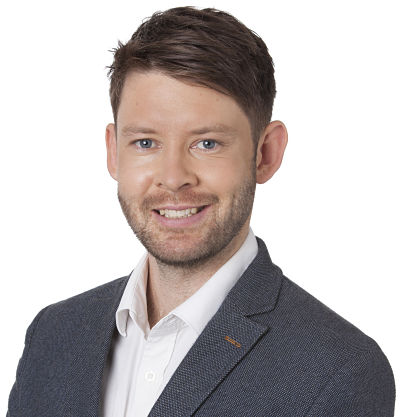 ---
SOLD! Home sweet home. My little family has its first family home 🏠 thank you so much to my rockstar mortgage broker who fought like a mumma bear when the banks said I was was 'complex'. She came through and now this little gen is ours! Suzanne you rock! Highly recommend @mortgagechoicenewtown for anyone who needs to battle the banks! So in love with our new home. Can't wait to move in 💕🏠🎉🍾🥂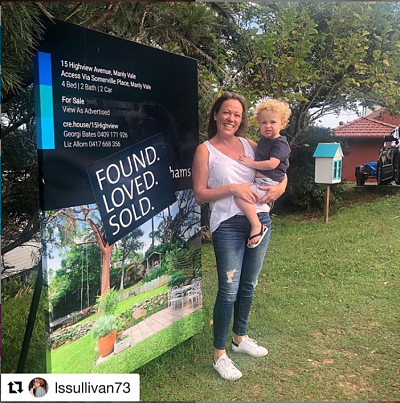 ---
Professional, knowledgeable, friendly and flexible. Great service from Suzanne and Isabelle.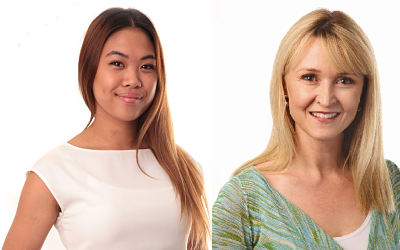 ---
Thank you very much Scott for your amazing work. Super impressed with service, knowledge and assistance from start to end state.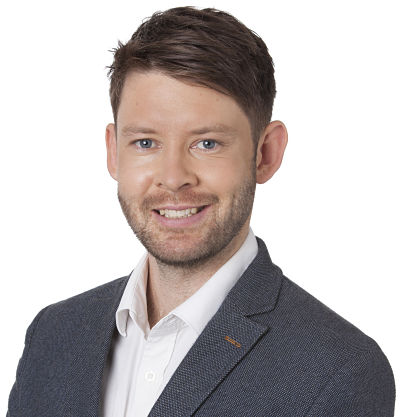 ---
I'm very happy with this company. It's not often that you find an organisation who are willing to go out of their way to look after you. Suzanne and David were so friendly and helpful, they showed us all the available options and helped us work out which loan was the right one for us. They let us know what was happening all the way through so we weren't bamboozled by the paperwork. We ended up getting 2 loans: one for our new house as well as refinancing our rental property. It was easy! We are saving almost 1% pa in interest. I am very happy to recommend Mortgage Choice in Newtown.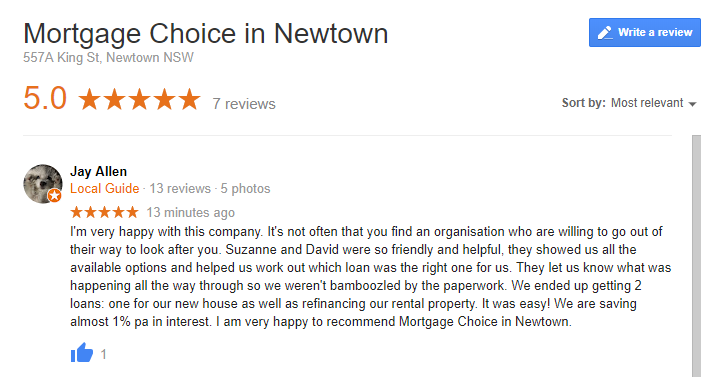 ---
I cannot be happier with the service. Professional and easy to deal with. Highly recommended!! Special thanks to Suzanne and Isabelle!



---
A big thanks to Scott for a really quick, smooth and easy refinance! The whole process was taken care of very well.



---
Mortgage Choice Newtown go above and beyond providing outstanding service and customer care in every respect. A great team and lovely bunch of humans in general. A special mention to Suzanne Taylor, thank you for everything!



---
Costa Karas at Mortgage Choice Newtown provided helpful advice leading to our choice of mortgage loan. In the end we selected a Mortgage Choice home loan, underwritten by Macquarie Bank, but there was no pressure on us to select the Mortgage Choice product. Costa was at all times friendly but professional. Any queries during the whole process were answered promptly and courteously.



---
The team at Mortgage Choice - Newtown have been a pleasure as always to deal with. Even when hurdles were encountered the team went above and beyond to try and make the process as smooth as possible. Thank you David and Suzanne for your hard work.



---
The Mortgage Choice Newtown team has been very helpful in guiding us through the process of our home loan approval. They have provided all the assistance we needed, answered our countless questions and all with a smile. Special thanks to Suzanne Taylor for her ever friendly support. We definitely recommend this business.



---
We always have amazing service from Suzanne and her team. They have a good understanding of our needs and deliver the appropriate product in a timely manner. Thank you again.



---
Thank you, Costa!
You and your whole team did an excellent job every step of the way: good information, great communication and swift action. You really made the home ownership process easy for me!
Many thanks to you and the entire team!



---
After our bank took 6 weeks to deal with our loan application, providing confusing information along the way or simply failing to communicate, our application was rejected. We then went into the mortgage broker market, and the first stop was a huge dissapointment. It seemed too hard for the broker who conveyed disinterest, and only came up with a proposal providing less than half the funding required. Then we found Costa and Mortgage Choice Newtown. Thorough attention to detail, expert reading of the market, creative thinking and can do attitude and we got the money.



---
Why can't the banks organise a home loan like Suzanne and her team at Mortgage Choice Newtown?
This is my third refinance in 22 years (second house) and I had no idea the process could be so easy and simple compared to my past experience dealing with the banks directly. I have and will recommend Suzanne and her team again.

p.s. I am also now saving over $200 per month!



---
Please accept my sincere THANK YOU for all your help in making my dream of moving into this property a reality. Please know that I could not have done this purchase without your help (and you're a wiz in finance broking)
I will definitely look forward to giving you a call for the next venture in refinancing etc, so please keep in touch. I will also spread the good word for your business to all my peers and friends that require finance broking assistance.
Keep up the good work Mortgage Choice at Newtown.



---
Being a bit scared of the whole process changed immediately after my first appointment. I was walked through the whole process like an old friend and with no issues. Thank you Mortgage Choice Newtown team!



---
Mortgage Choice Newtown have been an integral part of our Property Portfolio team!
They have been by our side every step of the way. We are always in communications together having all questions addressed with professionalism.
We are proud to have them on our team!! Thank you for all you do Mortgage Choice Newtown!!



---
As a first home buyer, I expected a lot more troubles with my home loan since I had no idea where to start and how it'd end. Mortgage Choice helped to make it a painless process. Though I'm sure there was a lot of paperwork involved at their end and with the bank, I felt like there was virtually nothing happening at all because it went through smoothly. I did my part with their instructions and they took care of the rest. Finished putting down my deposit as scheduled, met up with the developer/builder and it was all ready. Hassle-free home loan.



---
After visiting a few banks and Credit Unions to refinance my existing mortgage, and being mistreated in various ways, I decided to try something different.
I then walked into the Mortgage Choice Newtown office without an appointment and not knowing what to expect. What I came across was something I never got from any banks before - great customer service as well as approachable staff that knew what they were talking about.
I was offered several options to where I made a final decision without feeling pressured into anything. The whole process was simple, quick and painless. Costa and Crystal dealt with everything quickly and professionally, and they were available for any question or inquiry I had. Which was different to the numerous phone calls and long wait times that I experienced with various banks. Overall great service, thank you Crystal and Costa.



---
We have chosen Mortgage Choice Newtown and continue working with them even after we moved to Queensland as the team are easy to work with, proactive and constantly keep us informed of progress. Suzanne, Crystal and Melissa are always helpful and happy - thanks guys for another good outcome for our property purchase.



---
We are both so thrilled that this has all come together, and can't thank you enough for your efforts to make it work.
You and colleagues managed to combine fun, irreverence and professionalism in way that made the whole experience an absolute pleasure. Thank you again Costa!



---
I am really impressed by Costa's pleasant customer service and follow-up, I felt really relaxed and at ease. Your modern office and interior design created a very casual vibe. After explaining my current financial situation and home loan needs, Costa quickly came up a few lenders that suit me. It has been a very smooth and friendly process dealing with Mortgage Choice and Costa, It was getting to know your client rather than profit driven hard selling. I will definitely recommend Mortgage Choice to my friends.



---
I would have absolutely no problems in endorsing the services of Mortgage Choice Newtown. Its been such a pleasure dealing with them both and has taken the daunting prospect of this huge financial leap and made it stress free, as best it can be. All though extremely professional, I have enjoyed the light humour on the way through as well which I can relate to.



---
Thank you again for your unwavering support through the obstacles. Suzanne and the team were approachable and personal with us and we felt great trust in your services. The team made us feel comfortable with every decision and gave us the confidence to follow this dream.

We are so glad we found Mortgage Choice Newtown and couldn't be happier with the outcome. We look forward to any future home endeavours with you and will refer you as often as possible



---
My partner and I have been with Mortgage Choice Newtown since 2009. We have always had the best service and feel as though we are part of the family.
In order to build a property portfolio it is paramount to have the best members on your team. We are so privileged to have Mortgage Choice Newtown on our team. We highly recommend their service!



---
Thanks so much to Costa and Alicja for taking all the stress out of sorting out our home loan. Costa was a pleasure to work with and was able to secure finance for us even with some complicated circumstances to deal with.
Costa was very responsive with answering our questions and handling when things changed. We will definitely be coming back to Costa and Mortgage Choice in the future.



---
This is the second time we've used the Mortgage Choice team in Newtown. They came recommended to us by a friend and we've always been very pleased with the service they've provided.
The on-line home loan comparison table they showed us was easy to use and helped us decide on the best option for us.
We've also attended some of their free wealth seminars & found these very informative. If you're looking for someone to help with the finer details of property investment, I'd highly recommend these guys!



---
Over the last two years Suzanne has provided my partner and me with mortgage broking services, initially organising a mortgage for our home, and thereafter project financing for a property development project. At all times I have found Suzanne to be highly professional, diligent, and committed to quality outcomes for her clients. We are particularly thankful for her assistance in simplifying what was a relatively complicated mortgage transaction with our lender.

It would be my pleasure to engage Suzanne's services again in the future.



---
I have known Suzanne since she first started out in Mortgage Choice business, she is warm, caring and friendly person that understands the client's needs and always delivers. I have recommended several people over the years to deal with Suzanne as I believe she genuinely cares for the clients and knows the value of good relations.



---
From the first meeting when I was introduced to the team at Mortgage Choice Newtown I knew they spoke my language. I was welcomed with a warm smile and refreshment offered. We were seeking a smaller loan than most for an investment property in regional NSW. The team treated us like any other big ticket customer- offered over an hour of their time to go over the loan options that suited our needs, not simply what they wanted us to sign up for. We walked away from that meeting feeling confident that we could get what we needed and go ahead and make an offer on the property we had found. The second meeting blew me away more- I had my small dog with me and the team were more than happy for my furry friend to sit in on the meeting too! Over the coming weeks we had smooth communication for the paperwork requirements around 4 weeks later we settled with no drama. I would highly recommend the team at MC Newtown to any prospective finance seeker.



---
I have now used Mortgage Choice at Newtown for two purchases and one refinance, and they have always been extremely professional and helpful, and made the process of selecting and applying for a loan as easy and stress free as possible. Suzanne is very practical and commercially minded and I would have no hesitation in recommending her to my family and friends. Both Suzanne and Crystal always respond promptly to my emails, and when there was a minor hiccup with the bank, Crystal sorted it out in no time.