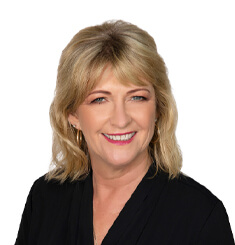 Teresa Harrison
Mortgage Broker 
With 30 years of banking and finance experience, Teresa is well placed to assist you with your lending needs.
Teresa's genuine passion for helping people and providing a highly personalised service has seen the majority of her clients recommended by her existing clientele.
"My business is based on building lasting relationships and having clients for life," she says. "I really enjoy helping people to achieve their goals and making their dreams reality."
"I believe success in any endeavour comes down to providing a good service – it's the platform for building strong relationships based on honesty and trust."
Teresa keeps up to date with market growth and changes and is able to provide clients with competitive and innovative loan products to suit their unique needs.
She analyses the long-term goals of each client and draws on her extensive product knowledge to tailor loan solutions.
Teresa keeps her clients informed through every step of the lending process and will act swiftly to fix any problems or push the process along if she believes it is being stalled in any way.