Home Loan Mortgage Broker for Adelaide CBD, Prospect, North Adelaide and surrounding suburbs.
Mortgage broker Trent Winstanley can provide expert home loans advice for refinancing, first home buyers, investors or next home buyers.
Call Us
Mobile - 0424 156 302
Office - 08 8297 2269
Fax - 08 8297 2274
Open Hours

Monday - Friday: 9:00am - 5:00pm


After hours by appointment
Address
PO Box 52
NORTH ADELAIDE,

SA

5006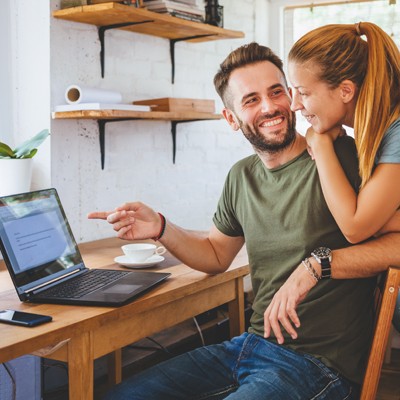 Latest home loan interest rates
Your home loan has never been easier.
At Mortgage Choice in Adelaide CBD, we work to ensure that we are finding you the best home loan from our wide range of lenders, to suit your needs. We do all the research and paperwork, so you don't have to , and keep you updated as the loan progresses. Call us today!
We share your passion
We're passionate about helping you achieve your dreams of:
A first home
An investment property
Your next home
Renovating your home
The loan that suits you needs
We have access to hundreds of loans from over 20 different lenders including the big banks and specialty lenders. We do all the research, to find the best loan for your life! We hate to see people stuck in the wrong loan for years, so we work hard to ensure we get you into the right one.
It gives you choice – without the legwork
At Mortgage Choice in Adelaide CBD, we do all the legwork and prepare all the paperwork so you can set about finding the right car or property to purchase. We will keep you updated as the loan progresses, and deal with the banks on your behalf - easy!
Expert advice at no cost to you
There is no charge for our home loan service as the lender pays us when your loan settles.
All your financial needs are covered
Our skilled team can help you select from a range of finance options:
Car Loans
Debt Consolidation
Personal Loans
Equipment Leasing
Loan Repayment Insurance
Life & Risk Insurance, as well and Home and Contents Insurance
More convenience for you
We understand your life is busy.
That's why we can visit you at your home or workplace at a time that's convenient for you.
To get expert advice to help you choose the right home loan at no cost to you, call Trent and his team on 08 8297 2269 or 0424 156 302.
We service the areas of: Adelaide, North Adelaide, Collinswood, Gilberton, Medindie, Medindie Gardens, Vale Park, Walkerville, Fitzroy, Ovingham,  Prospect, Prospect East, Prospect West, Thorngate, Broadview, Nailsworth, Sefton Park, Blair Athol, Blair Athol West, Kilburn, Kilburn North, Clearview, Enfield, Northfield, Northgate, Gilles Plains, Greenacres, Hampstead Gardens, Hillcrest, Manningham, Oakden, Klemzig, Windsor Gardens, Cavan, Dry Creek, Gepps Cross.
The right home loan for your needs
Our mission is to find the right home loan for your individual needs and to always have your best interests at heart. Plain and simple. Which is why we have such a wide range of lenders to choose from. We can search through hundreds of products to find something tailored to your situation. ~
Client reviews
Trent has been our trusted Broker for over 10 years. He is personable, professional and extremely knowledgeable. Most importantly, Trent is completely client focussed and always does what is in the best interest of those he is representing. I have widely recommended Trents services and feedback has always been positive.
Trent is my go to for my personal broking and also my recommended Broker my real estate Business. If there is a way Trent will find it.
Trent has been exceptional with his help and professionalism. Always goes above and beyond expectation. Highly recommend to anyone looking for the best loan.
Trent has been a fantastic support over the years helping us to refinance and most recently secure a loan when purchasing a new home. Trent is extremely genuine and very easy to communicate with. He will go above and beyond to make sure you feel well informed and comfortable with all options available to you. I have recommended Trent to family and friends in the past and will continue to in the future
Trust should be Trent's middle name We have been dealing with Trent for more than 11 years now. From helping us make the right decisions to buy our first house, Trent has not only helped us upgrade over the years but also guided us in developing our investment portfolio.
Trent and his team are very reliable, they kept us updated throughout the loan process. The experience was seamless.
Thanks guy... read more
I have dealt with Trent on two occasions who arrange mortgages for both properties.
I found Trent to be a very nice guy who is very knowledgeable in his field. He gave us clear and concise advice on our choices and kept us informed at every stage of the approval process.
The most recent application was difficult due to circumstance however, Trent dealt with the issues and secured the loan in a ver... read more
Trent and William looked after me like gold. I am a repeat customer and will continue to use their services in the future. They have expert knowledge, responded to my questions promptly and nothing was ever too much to ask of them. Despite my loan circumstances being challenging, they presented me with multiple options and comprehensively explained the difference between the lenders. Will be back again and again and again...
Trent is an absolute legend. Has been a trusted adviser and support for me for over 8 years. He and William are like family. They understand each clients needs and work tirelessly to find the best loans, rates and benefits. Trent genuinely cares - and I couldnt recommend a better broker- or person to manage your business- or to meet. Kind- Nice and Professional - is hard to beat
The team at Mortgage Choice Adelaide led by Trent Winstanley are simply outstanding. We have just finished financing with them for the second time and will come back again. It couldn't have been made any easier, we've saved literally thousands of dollars, and even when I thought we were finished, Trent contacted me out of the blue advising he'd unlocked even more value for us. Amazing.
Our mortgage broker was Trent and he gave amazing customer service. Trent helped us very quickly and smoothly getting into our first mortgage and building our first house. Very responsive and professional.
Trent was knowledgeable, he gave us helpful advice and he was flexible in the location & time to meet. Thanks!
We were very impressed that Trent came to visit us at short notice & did all he could to gain approval from the bank very quickly after presenting us with a selection of the best products available. Overall a fantastic help to secure our first home!
Trent and Will had a short time frame to help me get my investment loan sorted out as I had placed an offer in on a property and had to rejiggle a few things around. Nothing was too much trouble for them and were always available to answer my questions and help me when needed.

I will definitely be back to do business again whether it is purchasing another property or refinancing, and have no hesitations in recommending them to others.
This is the second time I have used Trent for my mortgage options. He is always there to provide great advice and options. I have recommended him already to quite a number of my friends and family who have also used him to facilitate their home loans.
Trent was very helpful and friendly. He was quick to get back to us with information and could also answer all of our questions. We will definitely be using Trent again in the future. Thank you
Trent and William have been excellent to me even when I become the difficult customer. at no time did I feel dismissed when I was unsatisfied with another part of the process. I feel like I was looked after in a way which my bank was not able to do. I was referred to Trent and I will refer on again.
Trent was extremely helpful. He enabled us to achieve the loan we wanted within a week! He and other staff were always professional and available. We would certainly recommend him to others.
Trent was extremely polite, patient and very thorough throughout the whole process. Being first time home buyers, Trent helped us through and ensured we understood each and every step by explaining everything in a language we could relate to. Made it very easy for us!
Trent was very professional with a friendly manner and not pushy, he gave me options that best suited me. There wasn't a question he couldn't answer and didn't make me feel silly if I thought a question was silly. I have already recommended Trent to my family and friends. I would definitely use him again.

I am a business owner and I am also a consultant and I appreciated the way he did business.
Trent had exceptional communication through the entire process. His honesty and ability to deliver against all promises was a standout.
Trent Winstanley has been invaluable in assisting us with our re-finance and future purchase of a second property. With Trent's competent assistance we have been able to secure the most beneficial mortgage rates in the market for our individual situation. Trent is approachable, highly efficient and personable. Importantly, we feel that our choices have been well educated and executed with Trent's assistance. We could not recommend him more highly. We must also acknowledge Trent's colleague Mr William Woods, who has been supremely organised and timely in his communication with us. With William we feel very well looked after and confident in his abilities.
The service we have received from Trent has been outstanding. He has extensive knowledge in his field and dedicated sufficient time and attention in explaining our options to us. During the process of our build we have had numerous queries for Trent and he always receives them positively and never made us feel we were a hassle. Overall Trent's customer service is excellent. We will most definitely use his services in the future and we have already recommended him to numerous family members.
Very happy with Trent's excellent advice.
A very good experience with help that are after hours. Trent Winstanley and William Woods gave help that were above and beyond. Will definitely go with them on our next property and recommend them to friends and family.
Property investor guide
Our free, downloadable guide explains the costs and steps associated with the purchase of an investment property, positive/negative gearing as well as pros and cons of houses vs. units.