May 01, 2017
Melinda Halloran
Want to improve the look and feel of your kitchen? It really is the heart of the home and any improvements you make in this space do impact the value of your property as well as the overall feel of the living space in an open-plan house or apartment. These five ideas will make your kitchen feel fresh and give you a chance to inject some personality into your home too.
1. Update the lighting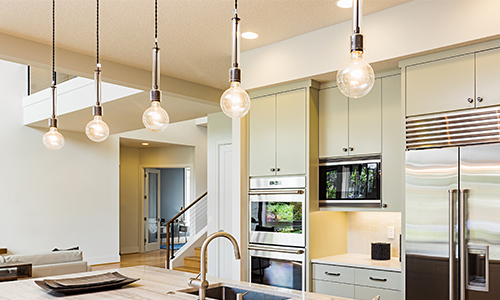 Want to put a personal touch on your kitchen without going overboard? Lighting is an easy way to do just that. Right now pendant lights are hugely popular, which means there are plenty of styles to choose from to match your tastes. Choose patterns, colours or antique lighting to make a statement, or create a contemporary look with subtle or sleek black designs. Hang a single pendant light over an island bench or dining table, or add to the statement with a series of three lights either clustered together or set alongside each other.
2. Give the cupboards some TLC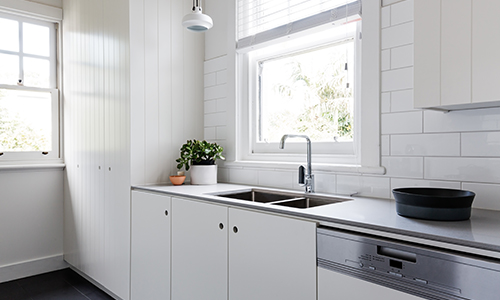 Overhauling your kitchen cupboards appears on nearly every list of kitchen update ideas and that's because this simple project has one of the greatest impacts on the visual appeal of your kitchen. If your cupboards are looking tired, you don't always need to replace them – you'll be surprised what a lick of paint can do to transform laminate kitchen cupboards and benchtops kitchen cupboards and benchtops. While you are at it, consider replacing the handles on the cupboards to something more contemporary.
3. Hang a mirror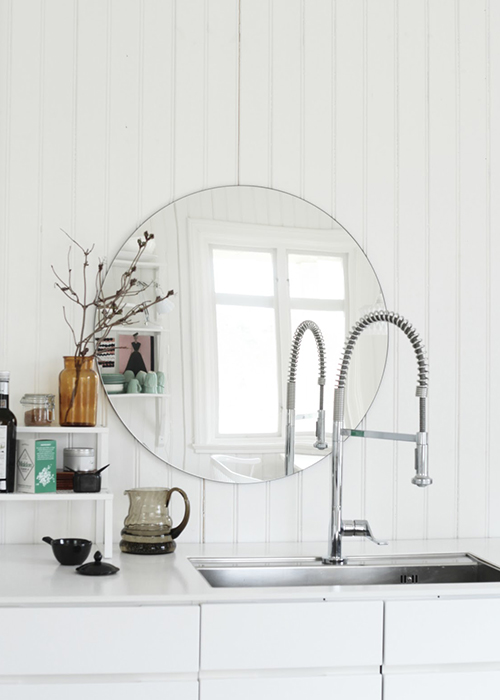 Image via Mokkasin
Mirrors are every interior designer's favourite way to make a room feel more spacious. So if you want to create the feeling of space, then try hanging a mirror in your kitchen (frameless mirrors and those with thin frames are best for this). Mirrors also catch and reflect light, which will make your kitchen feel brighter and more inviting. And finally, they look great too.
4. Replace the splashback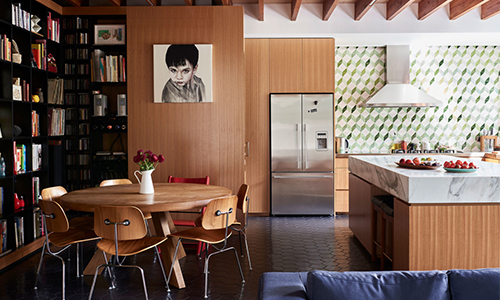 Image via The Design Files
Like cupboards, a tired splashback can really show a kitchen's age and replacing it will rejuvenate the overall feel of the space. Have a little but of fun with materials like patterned tiles or, alternatively, go for a refreshed modern look with clean white tiles (this is a safe bet if you are planning to sell or rent out the property in the near future). More expensive splashback options include glass and stone, which are both easy to care for and add a clean finish to your kitchen. Glass splashbacks are available in different colours and can even be custom printed. If budget permits, scaling the splashback up to the ceiling can really make a statement.
5. Paint a feature wall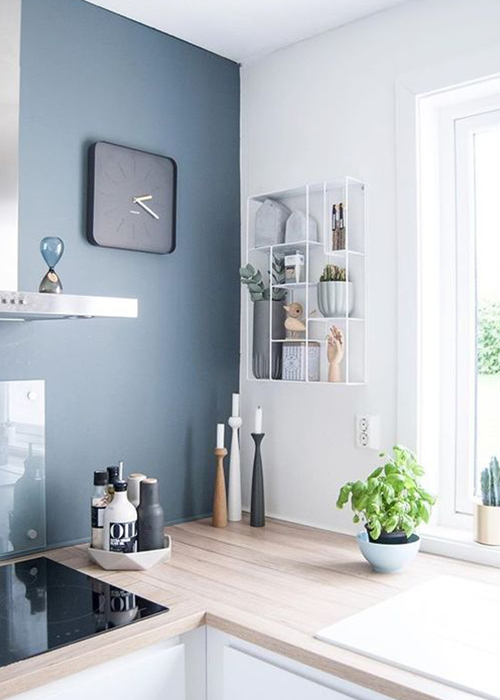 Image via Pinterest
Paint is an easy way to update a space without too much time or expense. If you want to add colour or depth to your kitchen, you could consider painting a feature wall. Darker tones will feel sophisticated, while bright colours can really freshen up a kitchen. If you have coloured furnishings or appliances, you can consider colour matching these to create a cohesive decorating scheme.
These updates are simple refreshes for your home. If you feel that your kitchen could use a full renovation to improve your lifestyle and the value of your home, there are a number of ways you can finance this. I am more than happy to discuss these options for you, so you can enjoy a new, functional kitchen sooner. – Trevor
Related: Get inspired by these five home makeovers