April 07, 2017
Melinda Halloran
When it comes to finding the right home loan, it pays to be informed. While the majority of buyers will elect to take out a fixed or variable home loan, there are other options available, which can be useful in a range of different scenarios.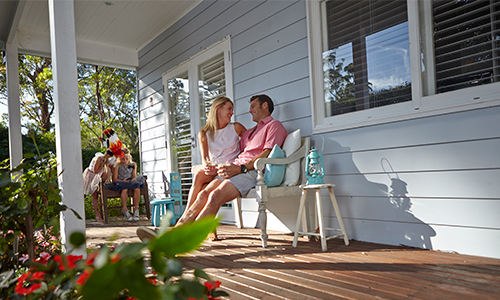 1. Interest-only home loan
An interest-only home loan allows you to repay just the interest of a home loan, making your regular repayments significantly lower than a standard principal and interest loan. After a set period of time, which may vary between one and five years, you will need to start making repayments on the principal too.
Who is this loan for?
This loan is available for both investors and owner-occupiers. For owner-occupiers, the benefit of this loan is that your initial repayments are lower, which can free up cash flow for things such as property renovations. Investors can use an interest-only loan to better manage their investment. Lower repayments on your investment loan will give you greater cash flow, which you could use to continue paying off the loan of your principal place of residence.
When you take out an interest-only loan, you will need to prove to the lender that you can pay off the principal and interest repayments. These loans do work out to be more expensive in the long term, as you are not reducing your principal debt during the interest-only period, so it is worth having a strategy in place for this type of loan. Many interest-only loans have the option of an offset account that you can use to start reducing your principle.
2. Split-rate mortgage
Can't decide whether a fixed or variable interest rate loan is right for you? A combination of both will give you the best of both worlds. A split-rate mortgage allows you to fix the interest rate on a portion of your loan and take advantage of variable rate features such as offset accounts on the other part of your loan.
Who is this loan for?
This loan is ideal for borrowers who want to minimise the impacts of any future interest rate rises. If you are on a tight budget but still want the flexibility to make additional repayments on your loan, then this may be the right option for you. Your repayments will increase when rates increase, however you will not feel the full effects of any rate rises, which will help you to keep your budget in check.
Fixed rate home loans do have restrictions on leaving the loan early, so if you are planning to sell during the fixed period, this might not be the right option for you.
3. Bridging loan
A bridging loan is a short-term source of finance that allows you to purchase a new property before you have sold your current home. A bridging loan is for a set period of time – generally between six and 12 months – and in this time you can make interest-only repayments. Once you sell the existing property, you will transfer across to a standard mortgage. When taking out a bridging loan, you are able to borrow the full purchase price of the new property as well as associated costs such as stamp duty.
Who is this loan for?
This loan is useful when you are moving home. Whether you are downsizing, upgrading or building a new home, it is not always the case that everything lines up neatly. In this case, a bridging loan can be a useful solution to get you through this period. And the interest-only repayment option allows you to manage the transition without having to find the cash flow to maintain two mortgages.
When taking out a bridging loan, you will need to be confident that you can sell your existing property within the timeframe of the loan. If the property doesn't sell within this period, then you may need to make repayments on both mortgages once the bridging loan elapses. Different lenders will have varying terms, so ensure you understand these before signing up for bridging finance.
4. Non-conforming loan
Lenders have a number of strict requirements when it comes to approving a mortgage application. If you have a poor credit rating or little evidence of your credit history, then chances are you will find it difficult to borrow money for a property. In this situation, you can consider applying for a non-conforming loan, which is intended for people with a poor credit history. These loans give you a chance to prove you can meet your repayments, but you will be required to pay a larger deposit than that of a standard home loan. In some cases these loans will also have a higher interest rate.
Who is this loan for?
There are many groups of people who can have difficulty securing a home loan. Reasons why you might take out a non-conforming loan include:
You are self-employed
You have recently started a business
You have poor job stability
You are a new Australian resident
Your credit history is poor
You are approaching retirement
5. Low-doc home loan
When applying for a home loan, you are required to supply a substantial amount of documentation to prove you can meet the repayments. When you are unable to provide this proof of income, a low-doc home loan allows you to apply for a mortgage without providing the to the lender, they often have a larger deposit and have higher interest rates.
Who is this loan for?
This loan is most commonly accessed by self-employed borrowers who cannot provide conventional proof of income. When applying for a low-doc home loan, you will need to provide proof of income via using one or more of the following: proof of ABN and/or GST registration, BAS statements, a letter from your accountant, past tax returns and statements from your business bank account.
When taking out a home loan, there are a number of avenues we can explore to get you into the right mortgage for your needs. Some of these loans are more expensive than traditional loans, so it is worth fully exploring your options through multiple lenders to ensure you are aware of all your options. ­ – Trevor
Related: How to review your home loan