November 09, 2017
Melinda Halloran
Ready to buy property but haven't mustered up the courage to bid at auction? Whether you feel overwhelmed at the prospect of bidding or you simply don't know what to expect when buying at auction, there are ways to come out on top.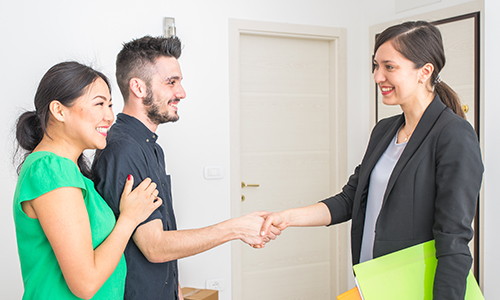 The idea of an auction is to create a sense of urgency among bidders, increasing the pressure and emotion you feel. And if you've fallen in love with the property going under the hammer, it is all the more important to keep a cool head. That is because auction sales are binding, meaning you don't have a cooling-off period to withdraw from the contract.
So to ensure the bids you put forward are in your best interest, these are our top tips for buying property at an auction.
1. Get familiar with the local market
Even if you are across prices in your area, auctions are a completely different ballgame. Attend as many auctions and inspections as you can, even if you aren't interested in the property.
This will give you a feel for the price that properties are selling for under the hammer and how competitive the market is. After you have seen a few auctions in action, you should feel more confident when preparing to bid, as you'll have a more realistic idea of what to expect.
2. Make a budget and stick to it
I recently went to an auction that was paused so a bidder could call his lender to extend his finance. In doing so, he had 50% of his strategy correct. He had done the right thing by getting pre-approval on his loan. Because auctions are binding, you must sign the contract if you are the winner. If you haven't locked in your finance, placing a bid is a risky move.
The part he got wrong? Getting emotional in the heat of the moment and trying to over-extend his budget. Chances are he had sat down before the auction, made a realistic budget and his lender supplied pre-approval accordingly. Bidding beyond this may have caused him and his family financial stress as they began paying off the mortgage. In the end, however, he was outbid.
Related: How to increase your borrowing power
3. Organise pest and building inspections
If you find out there are issues with the property after buying it at an auction, there is no backing out of the contract. That's why it is worthwhile paying for pest and building inspections if you are serious about purchasing the property.
Should the inspection highlight property defects, you will be able to decide whether it is worthwhile bidding or holding out for a different property.
4. Understand the terms of the sale
Doing the extra legwork before an auction will mean that you are ready to roll with confidence on the day. The first thing to do is request a copy of the sale contract for your solicitor to review. There is no room to negotiate on the contract terms once you have won the auction, so it's best to know beforehand if there are any nasty surprises within it.
If the contract terms are above board, then ask the real estate agent how much is required for the deposit and how this needs to be paid. When you are speaking to the agent, play your cards close to your chest and don't let them know what your budget is.
Related: A guide to conveyancing in Queensland
5. Make sure you register to bid
In Queensland you must be a registered bidder to partake in an auction. On the day, ask the agent if there have been any last-minute alterations to the contract and then make your way to the registration table.
If you don't feel confident bidding, you can arrange for a friend, family member or buyer's agent to partake in the auction on your behalf.
6. Be prepared to negotiate
In Brisbane, around half of all properties are passed in at auction each weekend. When this happens, you can then try to reach a sale with the seller privately.
It's important to note that if you buy the property within two days of the auction, the rules above apply and you won't get a cooling-off period. If you purchase the property after two days, the cooling-off period will come into effect.
Before picking up a good deal on a property, you'll need a home loan. To find the best deal on these, use our comparison tool or speak to me about the best mortgages currently on the market. – Trevor
Related: Five ways to better manage your mortgage