October 05, 2017
Melinda Halloran
You know the Christmas carol that says 'When the bloom of the jacaranda tree is here, Christmas time is near.' Well all around Brisbane the jacarandas are in full boom, signalling that the end of the year is fast approaching. While Christmas is one of the most exciting times of year, it can come with some financial stress.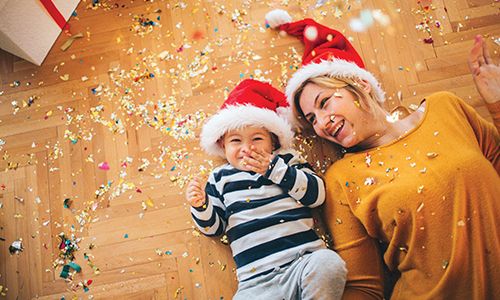 To ensure your Christmas spending doesn't break the bank, I've put together some tips to help you save for the festive season and keep your budget in check.
Start a budget now
If you don't already have funds set aside for Christmas, work out how much you can save each week from now on. This will ensure you have funds in the kitty when December rolls around, negating the need to put gifts on your credit card.
ASIC's TrackMySPEND app can help you keep on top of your expenses.
Do your shopping early
If you start shopping early, you can pick up bargains at the mid-season sales that happen during October. Buying one present per week will also take some of the pressure off you come December.
If you start now, you'll also have time to shop around for gifts, ensuring you get the best deals. Many online sites now allow you to purchase with Afterpay, so you can spread out your payments.
Factor in extra expenses
It's the extra costs of Christmas that can catch you off guard. When you're working out your budget, factor in the following costs too:
Pre-Christmas gatherings with friends and family
Catering expenses, if you're hosting Christmas Day
Petrol, car servicing and accommodation, if you're travelling
Know your credit card terms
If you are planning to use your credit card to get you through the festive season, make sure you are familiar with the terms. How long is the interest-free period? What are the interest rates?
If you have signed up for a new card, check when the honeymoon period ends so you can pay it off before then. Using credit cards may be convenient, but the interest can make for an expensive Christmas.
Cash in your rewards points
Do you have rewards cards for supermarkets and department stores? Check how many points you have and cash them in to help with the Christmas shopping. Many stores will allow you to exchange points for gift cards that you can use as spending money.
Keep making your mortgage payments
Skipping mortgage payments may seem tempting, because after all, your home loan isn't going anywhere for a while. But skipping payments can result in extra fees and more interest accruing on your loan. If you do need to cut back on your payments around the festive season, try making extra repayments during the year so you aren't losing out by making the minimal repayments at the end of the year.
Related: Five ways to better manage your mortgage
Want to give yourself an early Christmas present? Why not refinance your home loan like this couple did last year. – Trevor