May 05, 2016
Brad Dunn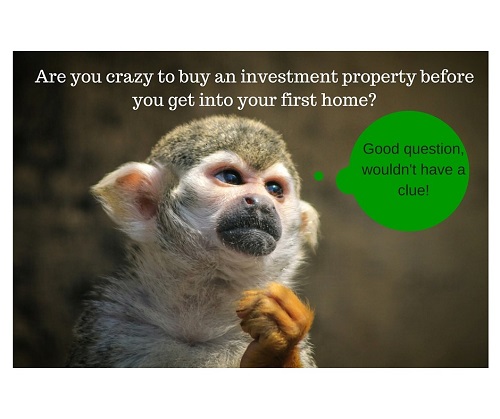 Increasingly we are finding the younger generation either renting or living with their parents/relatives and their first home purchase is for an investment property.
Sound strange?
Well if you are the parent reading this then I am sure you want to make sure their first home is for them to live in so you can get your home back.... :)
But for the younger generation, this can be a way to get into the property market but still live where you want to.
Why buy investment first?
This is by no means extensive but some of the reasons my clients are choosing investment over home are:
Priced out of the market – Many people are not able to afford a property near where they work, but would like to get into the property market so purchase a property in an outlying suburb and rent it out
Possible tax breaks – You are on a good income and have been advised by your Financial Planner or accountant that purchasing an investment property and negatively gearing it can get some of your tax back
Rental Yield – Some areas in Australia have properties for less than the rent they get for it (eg it costs $300 per week in interest costs to purchase the home but you get $350 per week in rent). Simple example not calculating rates and other costs
Pure love where they are – My brother for example loves living in the centre of Sydney so rents as he does not have the million dollars needed to buy in that area. But he also knows that he needs to own some property so he can increase his equity over the years. He is on his 3rd investment property but has still never even purchased his first home to live in.
With WA's rental market experiencing low vacancy rates in many suburbs and with a rapidly growing population and the endless spread of suburbs going North and South along the coast and out to the East, this can be a clever way to get into the property market and start to improve your financial situation.
If you are able to purchase an investment property you may find that in a few years, you will have built up enough equity in your investment property to purchase another property (either your home or 2nd investment property).
Obligatory disclaimer coming up: Note that just like with all investments, there is risk involved so I always recommended you speak with your financial planner or accountant to determine the opportunity and risks involved. That and making sure you do all your research thoroughly on the area (or get an expert in to assist) is imperative.
Case Study where it worked:
Fred & Wilma are a young couple (23 and 24) who both work in St George's Tce earning a pretty good income in the mining industry.
They have been dating for 3 years now and Fred wants to move away from his mates which he rents with and Wilma away from her parent's home to take the plunge and live together.
The problem is, even with a $30,000 deposit between them and good incomes, they cannot afford to purchase anywhere near the city where they work. They really want to get into the market together but don't want to have to travel an hour to work and an hour home each day.
So after careful research and speaking to the right people they worked out they could rent a property in the middle of the city for $450 per week and purchase an investment property up in Two Rocks only 500m back from the beach for $450,000.
We managed to secure them the finance for 3.99% which meant the interest costs on the property were only $345 per week. They secured a renter who worked in Joondalup but always wanted to live by the beach who pays them $400 per week in rent meaning they are in the positive by $55 per week to cover any extra costs like rates, insurance, etc…
Fast forward 4 years and the investment property has gone up in value enough to be able to use the equity they now have to buy a home of their own in North Perth.
About the Blogger
Brad Dunn has been a property investor, business owner, father and working in the finance industry for over 15 years.
He is currently one of the franchise managers of the multi-award winning South Perth Mortgage Choice office but what's really important to him is that 9 out of 10 of their clients would recommend them to a friend.
More from this author: