Testimonials
What people say about Tzuri and his team
Tzuri originally joined Mortgage Choice in 2015. He has held various roles within Mortgage Choice and is now the owner of his own home loan and finance business covering Randwick, Maroubra, Coogee, Kingsford, Kensington, and Matraville.
Tzuri was also the Area Lending Manager of Suncorp Bank in Bondi that lead the way in customer satisfaction.
He loves helping people and giving them guidance to help them in their home and business loan decisions.
---
Tzuri was an absolute Gentleman.

After months dealing with banks (and bank staff) and getting nowhere it was a breath of fresh air and pleasure to deal with Tzuri.

Tzuri was prompt, on time, attentive and listened to what our requirements were. He understood our needs and kept us informed throughout the whole process. Unlike the banks.

In the end we got a great deal which was the main objective. Even when the bank we were leaving was being difficult Tzuri stepped in and assisted us through the process.

I would have no hesitation in recommending Tzuri to anyone thinking of applying for a loan.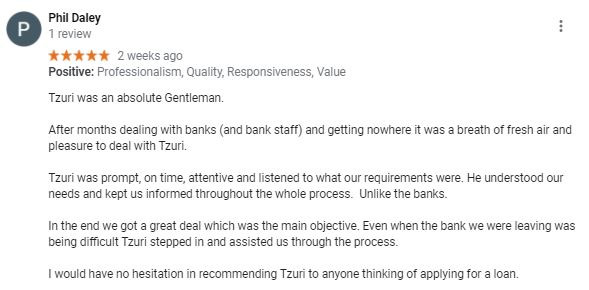 ---
Positive: Professionalism, Quality, Responsiveness
Tzuri is the best in the biz! Polite, professional and gets the job done as promised. I would highly recommend his services. Don't look any further, he is the man who will help save you money and navigate all the mind boggling paperwork involved in refinancing your mortgage. Thanks Tzuri.




---
Tzuri provided exemplary advice and an outstanding customer experience in helping us secure a mortgage for our property purchase.