September 24, 2015
Rebecca Crommelin
The Most Wonderful Time of the Year!
Firstly, let me apologise to those who think they are about to read a blog about Christmas - I won't be talking about Christmas. I'll be talking about something else. Something that makes grown men hug each other with abandon and cry like babies. Something so powerful it can drive your lovely, softly spoken Nanna to lob expletives at the TV. Something that makes friends out of enemies and enemies out of friends. Something that unites all of Australia against one group of people - Collingwood supporters.
Although it may feel like Christmas to Pie makers, Sports Bars, Merchandise shops and Ticketmaster (with that $7.85 service fee for every transaction - why Ticketmaster? WHY?). And you, if your team wins it all! I'm not going to talk about Christmas, I'm going to talk about the AFL Finals.
Is there anything better than the AFL Finals when your team is in the thick of it?! If you're like me, you're checking AFL.com very regularly to see who is playing and who's not, that hopefully the gun opposition midfield player that makes you lose sleep at night has tweaked a hammy at training or the gun opposition forward won't recover in time to play. One minute you're supremely confident your team will win and win big, and the next you're in full blown panic mode and thinking your team may not win this.
And it's only Preliminary Final weekend!
In WA, both the Perth teams are playing Preliminary Finals this weekend and have the very rare opportunity to play off in a Derby Grand Final. If that eventuates... Perth will stop.
Battle lines will be drawn between husbands and wives, parents and children, best friends and work colleagues... And regardless of who wins and who loses Perth will never, ever be the same again.
There will forever be two Western Australia's.
The "Pre-Derby GF" WA and the "Post-Derby GF" WA. You see, if you're an Eagles fan now and beat the Dockers in a Derby, you get bragging rights for half a season and then it starts again. BUT, if your team wins the Derby Grand Final - IT IS BRAGGING RIGHTS FOR ALL TIME. There is no coming back from that. Your team could win the next 20 Derby's and you won't brag, you won't gloat, you'll be too scared to - because you'll never escape the "remember the Derby GF" comebacks and ridicule. There won't be winning any debate or argument ever again.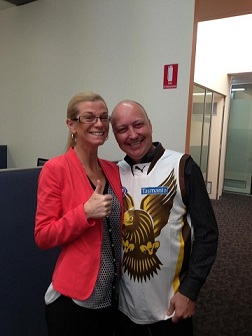 And if it does happen to be a Derby Grand Final - wake up early that morning, watch the sunrise, breathe in that fresh morning air, tell your wife or husband that you love them, take the dog for a walk, make yourself your favourite breakfast and take plenty of selfies. Because if your team loses that morning... that last wonderful Pre-Derby Grand Final morning, will be that happy place you go to when the ridicule starts first thing Monday morning at work, and every morning after. Take solace in this one undeniable, and beautiful fact...
Meet our team of home loan & finance experts at Mortgage Choice Armadale
Find out more about the services our brokers can offer you