September 11, 2017
Rebecca Crommelin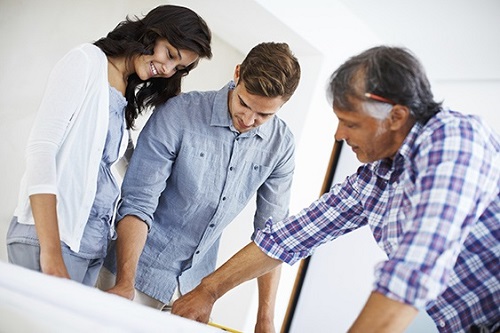 We recently caught up with Alex Dudek and his team at Master Cabinets to get to know their business and how they help their clients create their dream homes.
Alex Dudek, the General Manager at Master Cabinets, sat down with us and chatted all things Master Cabinets, home renovations and new builds. Take a look at the full interview with Alex below.
Firstly, can you tell us a bit about yourself, Master Cabinets and how you help your customers.
My name is Alex Dudek and I have been working at Master Cabinets for just over 10 years. I have been in Management roles for about 8 years at Master Cabinets and as the General Manager for the past three years. At Master Cabinets, we try to focus on our quality and service to ensure our customers' satisfaction is always at the forefront of our team's actions and responsibilities.
We recently (two years ago) started manufacturing stone benchtops to try cut down the turnaround time our clients wait for installation of their benchtops. In doing so, we have cut this down from an industry standard of 2-3 weeks to 5 working days. Our team continually strives to improve our customers' experience and help them into their beautifully renovated home sooner.
What makes Master Cabinets different to other cabinet making companies in the market place?
At Master Cabinets, we only employ qualified tradespeople and apprentices - we do not use unskilled labour. We also custom make all our cabinets unlike a lot of large concerns that use a production line which effectively takes out the skill and quality from manufacturing. This ensures that when your cabinets are fitted, the overall finish is neater and you won't end up with large voids left at the ends of your cabinetry.
What different types of cabinets and fit outs do you assist with?
Our main area of expertise is new homes (builders and owner builders), renovations and large developments. We specialize in the kitchen cabinetry, stone benchtops and also wardrobe fit-outs.
What are the benefits of renovating and updating your cabinetry for homeowners?
Besides the obvious benefits for the people using the renovated area, people often forget the value it can add to your home. In some cases the value added to your home can outweigh the money spent! Other items to look out for are materials used by some cabinetmakers who are importing cheap materials. They can contain carcinogens and have longer term health risks. By taking advantage of the new materials available from Australian companies you can help safe guard your families health.
What do your customers think about the service Master Cabinet provides? And how do your clients feel seeing the finished product?
"To All at MASTER CABINETS,
Thank you for your committed attitude, the word is: Leadership starts at the top, When the top is not shaky then it becomes solid all the way down. I think this applies to Master Cabinets. Wally has strived to create a sturdy, friendly, professional business that he is proud of (that is obvious) and his staff emanate that by their professionalism and willingness to ensure the project is as good as it can be, nothing is too much trouble. It's a pleasure to do business with you."
- Barb
"I have been dealing with Master Cabinets for the last 6yrs. I have found my experience with them to be thoroughly satisfying. Their customer service is exemplary. Quality of work and time frame is to be commended. Thanks"
- Vince Marchesani
"We have been very happy with Master Cabinets service specifically in relation to their customer service. From design/concept stage all the way through to installation, Master cabinets works very hard at keeping their customers always at the forefront & a priority on any job they do (be it us as a company or direct with our client)."
- Nulook Homes
If you'd like to learn more about Master Cabinets, contact us today at Mortgage Choice Armadale on (08) 9485 0090.
Get to know our team at Mortgage Choice Armadale & Kelmscott
Find out how else our team can help you with your finances & property