February 16, 2016
Rebecca Crommelin
Let us help you navigate asset finance - so you can reduce the risk of owning obsolete equipment
Not only can you save time and resources but you can also avoid costly quick fixes with these finance solutions:
Fleet Operating Lease
With this type of finance, the financier owns the vehicle and the client returns it at the end of the term, usually from 12 months to 5 years. When leasing a vehicle, the fixed monthly payments typically cover registration, insurance, tyres and scheduled servicing and maintenance. For a small business, a Fleet Operating Lease can help free up time and resources.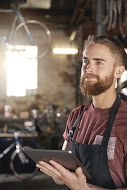 our team today at Mortgage Choice Kelmscott & Armadale on (08) 9485 0090 to discuss the right asset & equipment finance solutions for your business.
Learn more about the finance solutions we can offer you
Meet our team of finance experts at Mortgage Choice Kelmscott & Armadale
Read what our clients have to say about our team