March 26, 2014
Tiffany Hancy
Hi Folks,
I hope you had a great weekend. My weekend was, well, pretty great! The highlight was the part of the weekend I was least looking forward to.
I feel like a bad Dad saying this but the part of the weekend I wasn't looking forward to was a family thing. My boys have joined their school choir and at 10 years of age, it's the youngest age that they can join. Last weekend after only 6 weeks practice, the boys had their first performance at a quaint little festival in the hills. Now, I like my weekends. I like to have a sleep in occasionally, I have a garden needing attention and I had some footy pencilled in to watch – it's been a long summer. Not to mention that I was fearful that my ears were about to be tortured.
We made our way to the festival and joined the group of parents and other children that make up the choir. We watched their very talented and very patient music teacher guide the kids through a rehearsal and I only got more nervous for the kids (and my ears) as they looked very raw. The "only 6" practises were really showing.
Both the boys had nerves, my autistic son (who doesn't need to be nervous because his "gift" is musicality) was most nervous. I have to admit, I did have a little chuckle on the inside at his exaggerated deep breathing, in the end I think it was more of a showmanship thing than a nerve thing.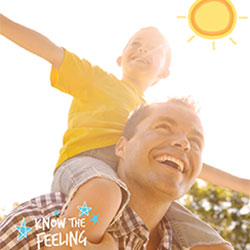 As show time approached we wished the kids luck, gave them the "you're awesome" speech, made our way to our seats and then waited for the kids to come on stage.
And they did.
And it was really awesome.
It was so awesome that I didn't look or play with my iPhone (Apple if you're reading – please note the free plug) during the half hour set. The kids were super impressed when I told them that there were two things I thought that were truly fantastic about the show. The first was watching one of my sons psych himself up before each song and then exhale, with a big "phew" whilst wiping invisible sweat from his forehead at the end of each song. The second was watching the teamwork. As disorganised as the quick preshow rehearsal looked, once on stage the kids moved around the stage for the song changes really well, they worked together and supported each other. One song was a mash, it had a group of kids starting to sing one song, another group joining in and then finally the last group doing cross harmonies. They did really really well.
And it got me thinking… or more reminded me.
To write, submit, process and settle your Mortgage Choice home loan is a real team effort. In our office, we have a number of Loan Consultants of which I am one. I have an assistant Adele, who helps with the submission, the valuation ordering and liaising with agents, developers, builders, banks and settlement agents to make sure everything flows smoothly and is in good order. I have a Loan Tracker Sonja, who follows our application progress through the banks, updates you and your agent and keeps the banks on their toes and I have a whole supportive office that offer support, advice and step into assist when needed.
Like the boys Choir, our Mortgage Choice Armadale & Byford team works in harmony to get you to where you want to be.
So give our team a call on 9485 0090, or send us an email, we would love to help you.
Find out more about how we can help you with your finances
Like us on Facebook
Meet our team of mortgage brokers