September 15, 2017
Vanessa Ziegler
On average the time taken for an application from beginning to end is around 4 weeks. The time taken varies for a whole range of reasons.
Pre-approval
Obtaining a pre-approval can usually be done quite quickly however finding your perfect house can take you time. This can cause the application process to take longer, however if you find your dream house straight away settlement is only 30 days away!
Refinances
Usually refinance applications take between 3 – 4 weeks for settlement but may sometimes be sooner. The time your application takes to be processed will mainly depend of the strength of your application and the current timeframes of your chosen lender. The time can be extended for complicated files or issues with external influences such as valuations & LMI if needed.
Purchase
The time frame until settlement of your purchase is set out in your contract so if you come in to us with a signed contract the process will generally be completed within 30 days or 45 days for more complicated loans. This can sometimes be changed due to an agreement between both parties or circumstances which delay settlement from either party.
Below is a flowchart showing the stages of the application process along with timeframes you should expect during each stage. Please note that all applications will vary and your broker will be able to advise of a more accurate timeframe for yourself once the process is underway.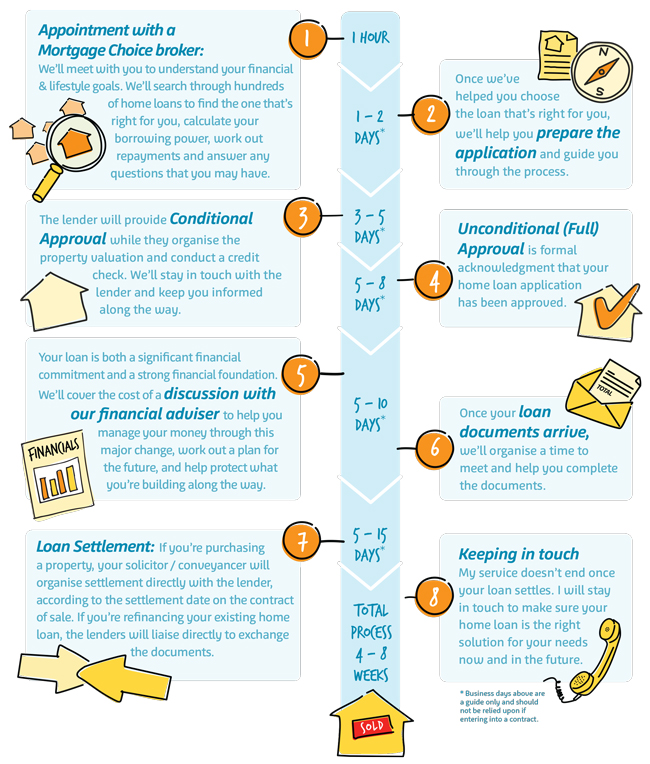 Come and see us today to get your application started!