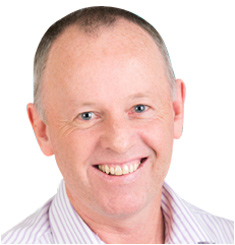 Brian Terris
Brian started his working career with the Commonwealth Bank in 1978. After a successful career spanning 23 years and experienced gained in all aspects of banking including customer service, lending and management positions including stints in NSW, Northern Territory, WA and North Qld Brian decided it was time to branch out on his own.
After investigating various options Brian settled on a Mortgage Choice Franchise in 2001 after he was very impressed with the level of professionalism and support offered by the Franchisee.
He started off working by himself in a tiny back room at home but quickly expanded his business and opened his first shop front 14 months later.
Today the business continues to thrive largely due to the support of his ever expanding client base, the business has won numerous awards and Brian and his team are very proud of how they have grown the business from very humble beginnings.
Brian has lived in Balmoral since 1995 and has 3 children who are all still at school. He is an avid South Sydney Rabbitohs fan and attended the 2014 Grand Final to watch his beloved team win for the first time in 43 years.