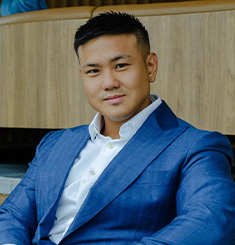 Dan Liao
Daniel Liao is passionate about helping people, and uses his skills, knowledge and extensive industry experience to help his customers achieve their goals.
Over his 14-year career in banking and finance, Daniel has held a variety of high-level roles, including lending manager with one of the big-four banks and eight years at Bank of Queensland branch, two years of this as a part-owner of a Bank of Queensland franchise. 
'I have experience with a wide range of finance, from personal loans, asset finance, small business loans through to complex home lending,' he says. His professional expertise is underpinned by honesty, integrity and great communication skills.
Daniel strives to build a strong rapport with every client and spends time discussing their current situation and future plans. 'I approach every loan application with a clear insight into the client's financial lending requirements, and have the ability to understand a large range of scenarios and circumstances to find suitable solutions,' he says. Additionally, he empowers his clients with knowledge, educating them about each stage of the lending process so they understand exactly how it all works.
'At the end of the day, my goal is to eliminate the complexity and stress whilst providing my clients with a reliable, cost effective home loan that suits their needs,' Daniel says.
Daniel specialises in assisting with home loans, investment loans, business loans, car loans and asset finance.