Your local mortgage brokers and loan experts | Bunbury, Busselton & surrounds
Our Mortgage Broker Bunbury & Busselton team are the convenient way to find the right loan. Don't spend hours searching yourself! We have hundreds of home loans on our panel and can help you from pre-approval through to settlement - at no cost to you.
Call Us
Office - 0408 591 979
Open Hours

Please contact our mobile Mortgage Broker team to book a time & place that suits you best.
Mobile Broker
Our mobile team services Bunbury, Busselton, Binningup, up to Margaret River and surrounds.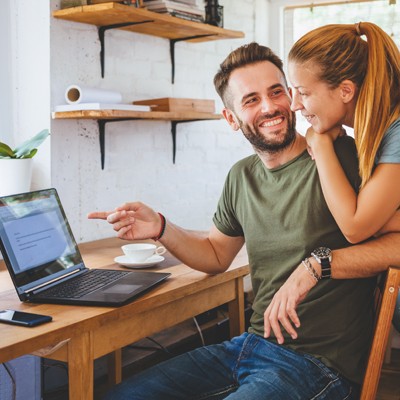 Latest home loan interest rates
The convenient way to find the right loan
With the finance industry becoming more complicated than ever, it's hard to know which home loan is the right one for you and if it's a good deal. That's where we come in.
The Mortgage Broker Bunbury & Busselton team have been helping people in the local community find the right home loan for over 10 years. We're the experts - so you don't have to be! You can can spend your time doing more important things, like finding the right property.
Our job is simple: to find you the right loan
Our Mortgage Broker Bunbury team will sit down with you to figure out your budget and which lenders might be best suited to help you reach your goals.
We compare thousands of home loan products to find the right selection of loans that suit you best.
We will negotiate with the lenders on your behalf to get you the right deal on your home loan, now and in the future.
We complete the paperwork, lodge the application and do all the following up with the bank so you don't have to.
There is no cost to you for our home loan service, as the lender pays us a commission after your loan settles.
No cost to you
Our home loan service is no cost to you as the lender pays us a commission after your loan settles.
We have thousands of loans available
Don't spend hours researching loans online and trying to compare rates!
We have thousands of home loans to choose from, and a panel of over 25 lenders - including the big banks and specialist lenders - so we can find something to suit everyone. Our specialised lender platform allows us to find the right loan to match what you want from your finance.
Our mobile team is ready to assist you
The best part is just how easy we make your next home loan journey! We can meet you at a time and place that suits you from Bunbury down to Busselton, Margaret River and surrounds.
We can help you with your next home loan, investment loan, refinancing, car loan, business & equipmet finance, financial planning and more.
Call the Mortgage Broker Bunbury team on 0427 418 068 or click on the Speak to us button to book a call.
Our Mortgage Broker Bunbury team service the areas of Yarloop, Harvey, Wokalup, Benger, Picton, Bunbury, Eaton, Australind, Dardanup, Boyanup, Donnybrook, Lowden, Kirup, Mullalyup, Balingup, Bridgetown, Glenlynn, Manjimup, Pemberton, Busselton, Yallingup, Cowaramup, Margaret River, Witchcliffe, Karridale, Augusta, Williams, Darkan, Duranillin, Muradup, Kojonup & surrounds.
"Excellent customer service. Flexible enough to make appointments late in the evening that suited me. They have the best products from a wide range of lenders." (Peter, Australind)  

"It was such a relief to find Donna who sat down with us and went through everything in detail and in a way which made complete sense to us. She is friendly, organised, professional and will fight to get the best outcome." (Sophie, Glen Iris)
Is refinancing worth the fuss?
The right home loan for your needs
Our mission is to find the right home loan for your individual needs and to always have your best interests at heart. Plain and simple. Which is why we have such a wide range of lenders to choose from. We can search through hundreds of products to find something tailored to your situation. ~
Client reviews
Donna was the most amazing mortgage broker ever. It took us 3 months but we got there she didnt give up and kept going. Our new house car. The equity in current investment property. Highly recommend to everyone. Her communication and general care for her clients. The best experience for such a stressful time. Thank you guys. We now have you for life.
Donna was amazing at walking me through the daunting process of refinancing my home loan. Donna did the hard work offered alternative ideas to consider and then supplied her three top lenders to choose from. She was very thorough in her explanations and workings. I would not hesitate to recommend Donna at Mortgage Choice to anyone considering a refinance. I will certainly be keeping her contact details if needed in the future. Christina Scott
What a team Donna and Kevin were so great to work with. We thought we had no chance of getting finance after a rough trot through COVID times losing my job and fighting with finance companies to keep our heads above water. But Donna told us exactly what we needed to do and her communication throughout the process was amazing. Now we've just moved into our own home thanks to Donna's hard work and determination. We can't thank you enough.
Donna and partner where fantasticm so easy to deal with can phone and ask questions at anytime and always got answers within good time frames. Finger was on the pulse the whole way threw to settlement. Best broker going around. Tell your friends dont go anywhere else. This is it.
Thanks again donna and partner
Donna from mortgage choice is an absolute miracle worker. She managed to secure the dream home for me and my partner. It was a difficult lend, I am self employed and the home we wanted to purchase was.... rural to say the best. Donna was extremely professional and happy to go the long yards.
With me being self employed I work very odd hours Road train operator and I distinctly remember Donna working a... read more
Donna and Kevin make a great team. We have trusted Donna to guide us through the purchase of investments properties, land purchases and new house builds. Her advice and comprehensive attention to detail have helped us move forward on all our recent projects. She always finds the best deal and pushes to get things moving when there are prolonged delays or inequities. Keven's work behind the scenes is appreciated. Thanks again Donna and Kevin. Highly recommend.
Donna Kevin were fantastic to deal with and highly professional people would highly recommend them to all family and friends.
Contacted Donna to refinance my existing mortgage. I was looking to extend the loan term, to help bring down my weekly payment. Donna did great job in finding lenders and gave me options to choose.
My husband and I were wanting to buy our retirement home in SA as well as the one we own and live in now. We were told by another mortgage broker that while my husband was on sick leave, due to a major foot operation, that we would not be able to get a loan until he was back at work. We thought this odd so spoke to Donna and she said when we find the house we want to let her know. We did just that and... read more
Donna went above and beyond to assist my partner and I with buying our first home. She was always responsive and was able to schedule appointments with us based on our busy work hours. Donna went further then what we expected and made this process much easier for us, she simplified and explained everything in detail and was able to answer all our questions quickly. Turn around time was absolutely amaz... read more
Donna and Peter were first class. Their professional approach and personal attention to my application was commendable. Thank you.
We are so pleased that we worked chose Donna and Kevin to organise our mortgage. They went above and beyond to help us and keep us informed of the process, this made for a stress free and positive experience. Despite our complicated and ever changing situation, Donna was on top of everything and explained every detail patiently! I would highly recommend them!
Donna and her team actually made it possible for me to purchase my dream property. I had initially started a loan application directly with a bank but was completely confused with every aspect of the process. Donna was very clear and knowledgeable with each step providing me with all the information to make my own decisions which was empowering for me. I encourage anyone who is wanting to buy a property to engage Donna and her team at Mortgage Choice in Margaret River to make it happen in a timely and satisfying manner.
Absolutely wrapped with the work of Kevin at Mortgage Choice Bunbury. Buying our first home was a daunting process but they made it straight forward and much less stressful. Attentive to detail, quick and keep you updated the whole way. Highly recommended!
I had a good experience would recommend to any one looking into buying there first home they where there from start to finish and where very professional and where only a phone call away
They kept me informed and we're a huge help in achieving my first home.
Donna went above and beyond to assist us in getting a home loan. It was a very long process (to no fault of Donna's) and we were so happy to get our approval for our new home. Thank you so much Donna. Would highly recommend for Donna and Mortgage Choice in Bunbury to family and friends they are a very caring and professional team.
I had an excellent experience purchasing my first home with Donna and Kevin from Mortgage Choice in Bunbury, they answered all of my questions and always went above and beyond for me during the process!!! Highly recommend.
Donna and her colleagues at Mortgage Choice in Bunbury were very knowledgeable and helpful with our every query and concern. We went from asking if there was a chance of purchasing a second property through to actually owning our second property, and Donna prevented me from making some major mistakes in the house selection process! We cannot thank the mortgage choice team enough.
After being rejected by banking institution my wife and I enlisted the services of Donna and Kevin from Bunbury. They presented us with a realistic outcome. Thank you again!
Donna and Kevin from Mortgage Choice in Bunbury helped me with my home loan and investment loan. When I needed extra advice, they helped me immensly. They were very professional in the way they handled everything. Fantastic people to deal with. Thanks heaps Donna and Kevin.
Warm friendly service, very knowledgeable and worked with us to ensure we secured the best rate and deal for our mortgage. Highly recommend their services and will be utilising again.
Donna made our dreams come true by assisting us to secure a home loan and get our own beautiful home. Her team was wonderful and kept us informed every step of the way. Donna gave us confidence and reassurance throughout the process. We would not hesitate to recommend her and her team!
Fantastic service, highly recommend. Went above and beyond to make Finance happen for our first home, would definitely use again!
We received a very professional service and were kept informed of where the process was at all the time. Our situation was a bit complicated as I was about to go on maternity leave and my partner had just started a new job. Whilst most brokers said no straight away Mortgage Choice looked into how to makes it possible.
Step-by-step guide to home ownership
There are many steps involved in purchasing a property which can vary between residential and investment properties. This guide explains each step in order as well as what is involved at every stage of the purchasing process.