Please don't hesitate to contact us to come and discuss your mortgage needs. Don't worry if you cannot make it to our office we still offer our mobile service.
The team at Mortgage Choice Raymond Terrace are here to help you! We listen to what you need to assist you in achieving your goals.
Lauren Murphy
Lauren has a reputation for loyalty, integrity and for going above and beyond for her clients. Her extensive experience and knowledge coupled with her personable and friendly nature ensures that each client receives a personalised experience with the right advice.
When the opportunity presented itself in 2011 for Lauren and her Husband Jody to purchase Mortgage Choice Hunter Franchise, she was more than prepared to build a successful business, having had 8 years' experience in the real estate industry, coupled with 5 years' experience in residential lending. Lauren then complimented this with completing her Diploma of Finance and Mortgage Broking Management in 2013.
Born and bred in the Hunter Valley and having lived in Raymond Terrace for the past 18 years, it is evident that Lauren imparts expert advice surrounding lending and finance in the local area.
Lauren is very proud of the Mortgage Choice brand and what it represents to consumers. She is available for her clients every step of the way and loves working with her valued and diverse client base. Lauren is passionate about mortgage broking and the benefits of the service. She says, "I enjoy finding solutions and empowering people with information to make informed choices." Her happy clients, that continue to refer her to their family and friends, are testament to her dedication to doing everything for her clients.
When not at work, she loves travelling, attending music concerts and the theatre but most of all spending time with her husband, nephews and nieces and extended family. Lauren is also an active member of the Port Stephens Communicators club (Toastmasters).
She is a loyal supporter of the Cancer Councils 'Relay For Life' and has given her time to attend numerous events to raise money for a charity very close to her heart.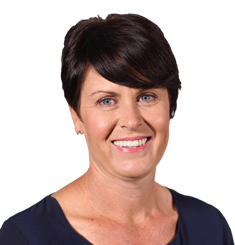 Teresa Lantry
Teresa has been a part of our Mortgage Choice team since 2013 as an Administration Assistant. She brings with her a previous 12 years' experience in the real estate industry.
Her passion and drive ensure that clients receive an exceptional experience each and every time. Teresa believes that being able to help a client realise their dreams is a privilege and enjoys seeing the work she does, minimise stress and hassles for our clients.
Teresa's responsibilities include completing all the administration tasks; relating to clients; managing the workflow of each client; liaising with all stakeholders from clients, banks, solicitors and real estate agents to ensure information is up to date; accurate and timely transactions are completed
Having just completed building her dream home and assisting many Mortgage Choice clients over the last 8 years, Teresa has a wealth of knowledge of the complete construction process and is an invaluable source for ensuring all our client's construction finance progresses smoothly.
When Teresa is not in the office she loves spending time with her Husband and children, extended family and friends. She also enjoys water skiing and going to the gym.
Candice Le Marchant
Our newest member of the Mortgage Choice Raymond Terrace team is Candice, who joined us in February 2017 as our Part-Time Administrative Assistant. Candice brings over 12 years' experience in customer service and management roles.
Candice provides administrative support to the team, maintains our social media platforms and any other marketing tasks required.
When Candice isn't in the office, she loves spending time with her Husband and Daughter, being creative in her sewing room or heading to the beach with the family.