Home & Investment Loan Specialists in Sydney's Inner West
Gary & Ashley, your local Mortgage Choice Brokers in Concord, Sydney's Inner West, have over 20 years' experience. Whether it's a new home or investment loan we help make the process stress free.
Call Us
Office - 02 8765 8700
Fax - 02 8588 1222
Open Hours
Monday to Friday
9 am to 5pm
After hours by appointment only
Address
Suite 106, 43 Majors Bay Rd
CONCORD,

NSW

2137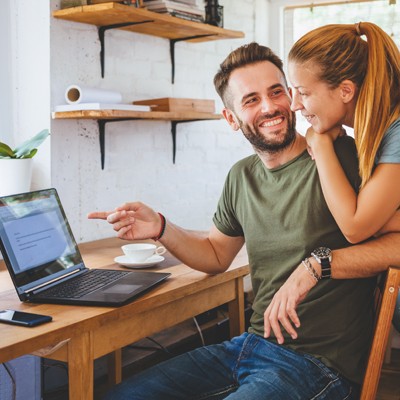 Latest home loan interest rates
A great deal of our business comes by way of referral from our very satisfied existing clients. Contact us today and experience this same high level of service.
We have the experience and expertise to help you find the loan that best suits your needs, whether you're a first home buyer or an investor.
Our office has written thousands of home and investment loans over the past 20+ years
You can rest assured that no matter how complicated or straight forward your situation, we can give you great advice tailored to your individual needs.
Still a little unsure?  Check out our Google Reviews below and let our clients convince you!
We offer more than just great home loan advice:
Home loans
Investment loans
Commercial loans
Personal loans and insurance
Car loans and equipment finance
To better understand how we can help you achieve your goal of home ownership or the building of a property portfolio, you simply need to click on the Contact Us link above or call us on 02 8765 8700.
You can find us at:
The right home loan for your needs
Our mission is to find the right home loan for your individual needs and to always have your best interests at heart. Plain and simple. Which is why we have such a wide range of lenders to choose from. We can search through hundreds of products to find something tailored to your situation. ~
Client reviews
Ashley helped my partner and I secure a mortgage for our property. She was highly available and showed great knowledge of the current mortgage products and market. I believe she helped secure the best mortgage for our situation. With her high level of support, she made the whole property purchase process less stressful. A special thanks also to Sharon, who was part of the journey Sharon was quick to re... read more
The team at Mortgage Choice Concord are fantastic Great service, super efficient. They found the right product for us and were able to get our loan arranged as quickly as possible so we could purchase the property we wanted without delay. I'd recommend them to everyone
This is the second time we have required Ashley's and Gary's assistance. They take the stress and anxiety out of organising finance for buying a house, and I would not hesitate to recommend Mortgage Choice in Concord to my family and friends.
Ashley and the crew at Mortgage Choice in Concord, made the chore of refinancing and getting an investment loan easy. They are not only friendly and helpful while being truly professional, they constantly kept us up to date and advised us all the way through. This was the 2nd time we have used Mortgage Choice in Concord, and are very happy with the results. Highly recommend them 1010.
Thank you Ashley, for your amazing work over the last few months. Specially in that last 2 weeks pushing the bank to get their work done in time for settlement. We chose to use a broker as we didn't know anything about Home Loans. I glad Ashley answered the phone the first day I called. You explained everything in simple term and added an email with our chats. Which made it easier for my wife and I to make a confident decision. Great work Mortgage Choice
Both Gary Ashley were great to work with. Very knowledgeable and ensured settlement went through as expected. Their advice on how to split up all our loans to work best for us was invaluable.
Thanks so much to Ashley, who did all the hard work to help me increase my loan so I could finally buy a new car. To begin with she researched my options, which I had found most daunting, then once decided, Ashley made it all so easy and kept me informed along the way. I am very glad I have found the team at Mortgage Choice Concord. I highly recommend their service, commitment and friendliness.
Myself and my wife recently applied for a mortgage through Mortgage Choice Concord, and honestly couldn't have wished for a better experience from beginning to end. Ashley, Gary and the team are extremely knowledgeable and efficient - which was extremely helpful given the tight turnaround times for our particular circumstances. The customer service and care we received was excellent and has continued l... read more
I just settled my first investment property with the team at Mortgage Choice Concord and could not recommend them any higher. The whole process was flawless, stress-free and I'm soooo happy with the service of these guys.
We have shared our financial journey with Mortgage Choice Concord for over 6 years. From purchasing our home, to obtaining loans for business equipment or the annual Financial Planning reviews - the service from the Mortgage Choice Concord team is always excellent. Whether over the phone, or via email, or meeting them face to face, the service is always highly professional yet friendly and personal. It is a real pleasure to know Gary, Ashley and Sam. We highly recommend Mortgage Choice Concord
Step-by-step guide to home ownership
There are many steps involved in purchasing a property which can vary between residential and investment properties. This guide explains each step in order as well as what is involved at every stage of the purchasing process.