Our team of Brokers provides you the client with the knowledge of not one lender but over 25 lenders on the Mortgage Choice panel.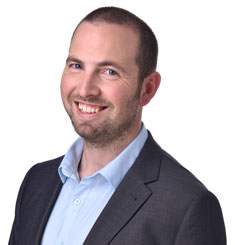 Paul Robinson
I have been referred to as many things over the years and the one that stands out to me is being labeled "The Helpful Guy".
I love to help and educate. Over the last 10 or so years I have been helping businesses with their office technology and I have always had a passion for property. The opportunity came up to join Mortgage Choice and leapt at it. Here is a business where helping you get the best possible deal for you to buy your first home, educating you on your options for your first, second or third investment property, I had to get on board.
I have been in the Lake Macquarie and Newcastle area since 2006. With my beautiful wife, we have two fun and lively young boys and together we love getting down to the beach, going to the park or riding around the lake.
Jace Cordell
Financial Planner
Awarded Mortgage Choice Adviser of the Year 2016
Jace was inspired to become a Financial Adviser and help people achieve their financial and lifestyle goals after seeing someone close to me experience both financial and emotional pain through poor investment advice.
Jace prides himself on building open and honest relationships with his clients and putting their best interests first. Jace make sure that they fully understand their financial strategy and feel comfortable that it is achieving their desired outcomes.
Jace enjoys seeing that he can make a difference to his client's financial wellbeing and lifestyle. Jace works with each client to implement a personalised plan that best utilises their resources to optimise their financial position, whilst making sure they are financially protected in unforeseen circumstances.
Jace has worked with a wide range of clients from early 20's to 60's, and has experience in accelerated debt reduction, wealth creation, insurance, property, superannuation, SMSF.
Born in Lake Macquarie and having grown up in Newcastle, Jace knows the area well. I look forward to helping my local community with their financial planning needs.