Local Mortgage Choice Broker Paul Sullivan servicing Essendon, Strathmore, Keilor East, Ascot Vale and across Melbourne
When you're making a big decision like which home loan to go with, knowledge is strength. That's where I come in! As your local Mortgage Choice Broker, I'm here to educate, inform and walk you through the journey, so you have the information you need to make a great decision. I believe in keeping it simple and doing the legwork for you, so you can focus on enjoying your property search. Let's get started!
Strathmore
5.0 (14+ total reviews)
Aggregated from:






Call Us
Office - 0411 414 115
Open Hours

As a mobile Mortgage Broker, I can come to you at a convenient time and place across Melbourne. But, I can also look after clients from all over Australia via phone or video chat. Let's get started.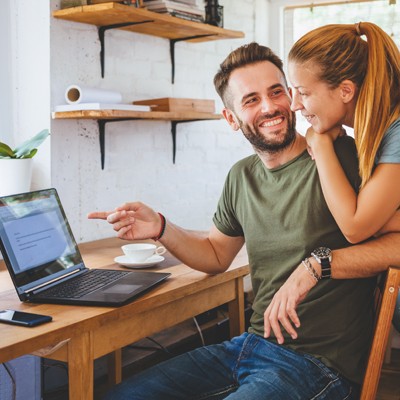 Latest home loan interest rates
The best thing for your home loan
Having an expert in your corner is so valuable when it comes to borrowing money. Too many people are missing out on a great home loan by going directly to their bank! As a passionate, experienced Mortgage Choice Broker, I'm here to provide expert advice, tailored recommendations and advocate with the lender to get you the right deal.
Here's how I can help
It all starts with a quick chat about what you want and where you're at financially. I will do some quick preliminary figures for you and work out a strategy to get you to your goal.
I have access to thousands of home loan options from over 35 lenders - including the big four banks and a range of specialist lenders.
I offer loan recommendations that are tailored to you. No robots, no algorithms - just good, ol' fashioned expertise. I have close connections with most lenders, which gives me the flexibility to approach them on your behalf and advocate for your best interests.
I will take care of all the paperwork for you, including follow-up with the lender to make sure your home loan is ticking along.
My home loan service is free, which is one of my favourite things about the service I offer to clients. Instead, I get paid by the lender you choose when your home loan settles.
We are a 'can do' business
At Mortgage Choice, we're your biggest cheerleaders when it comes to achieving your property goals. That means, looking at the goal you want to achieve and putting together a plan to get you there: whether it's now, in the near future or over the longer term.
I'm very proud of the great results I've been able to achieve for my clients, and I am stoked that I get to keep working with clients to achieve their next goal.
It starts with a quick chat
Your journey with Mortgage Choice starts with a quick chat about what your goals are and what you want in the long term. And I'll fit around your schedule, to make it as easy as possible for you to get a great home loan.
I'm so pleased to be able to offer my services in my local area of Essendon, Strathmore, Keilor East and surrounds, but as a Mortgage Choice Broker, I can look after clients from all over Australia. Let's get started!
Call Paul Sullivan from Mortgage Choice on 0411 414 115 or click below to book an appointment.
Meet Paul: your local Mortgage Broker
Buying your first home
Refinancing your loan
The right home loan for your needs
Our mission is to find the right home loan for your individual needs and to always have your best interests at heart. Plain and simple. Which is why we have such a wide range of lenders to choose from. We can search through hundreds of products to find something tailored to your situation. ~
Client reviews
I found Paul professionally navigated the best deal going around for me in my current financial situation. Seamless help, nothing was too much trouble. Always available to answer my many queries. I would highly recommend his services.
Paul has been fantastic at walking me through my mortgage and options. Paul negotiated rate reductions for me without any prompting and has been warm and encouraging from start to finish. I look forward to many more properties purchased with Paul on my team.
Paul has made my life easier.
He isn't looking to 'make a sale', he's looking to help people do the most sensible thing for their financial situation, even if that means not changing anything, explaining everything simply along the way. It's a very refreshing approach, especially when cost of living is putting enough pressure on as is.
I also trust that Paul will let me know when better option comes along, which is reassuring given I'm not overly confident with numbers.
Dealt with Paul on multiple occasions, awesome to deal with. Very knowledgeable about the market and always happy to help.
outstanding service and gave plenty of options friendly staff
Paul and all the Mortgage Choice team were fantastic to deal with. They left no stone unturned to get me the best deal possible and the entire process was made very simple throughout. Couldn't recommend them enough.
Paul was incredibly professional and helpful during my first time refinancing my mortgage. He went above and beyond to make sure I got the best deal and made the entire process uncomplicated and smooth. I couldn't recommend Paul Sullivan Mortgage Choice more highly
We would like to express our deepest appreciation to Paul, Namita and the Mortgage Choice team.
Our trust in their ability grew quickly and they delivered incredible service for financing a new property and refinancing an existing property. Their advice was invaluable, they were very professional, and we could not have managed without them. They were certainly a pleasure to work with and we would highly recommend their services and would absolutely use them again.
If i could give 10 star i would. Paul walked me and my wife through the entire fixed loan process and made it really simple for us. It helped us to stabilize our family budget, especially in an era of constant rate hikes. Massive thanks to him and his team for the professional service provided.
Extremely satisfied with the personable and professional service provided by Paul and his team at Mortgage Choice.
Navigating through the extremely daunting first home buying experience was made super simple and stress-free. Paul always made himself available to answer questions however ridiculous, and could very easily provide different permutations to lending criteria in order to secure the best result for me.
Thanks very much Paul for all your support, we're so happy with our new home
First home buyer's guide
Purchasing your first property can be an overwhelming process and there may be steps you are unsure or unaware aware of. This guide will walk you through all of the steps involved in the buying process.